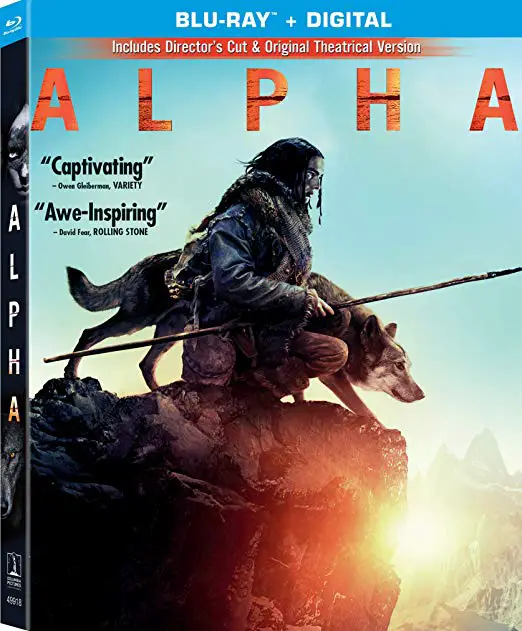 Studio 8's feature film Alpha is a good family film for the holiday season. With a rating of PG-13, the movie explores the early relationship between man and wolf when a young boy is separated from his tribe and befriends a cub that has also lost its family. The story was written and directed by Albert Hughes and stars Australian actor Kodi Smit-McPhee as the boy Keda. You might know Smit-McPhee has as Nightcrawler in X-Men: Apocalypse as well as the upcoming X-Men film Dark Phoenix (2019) that's in post production.
Alpha was shot with Arri Alexa 65 6k cameras and mastered with Dolby Vision so it's a little disappointing we won't get to see a 4k Ultra HD Blu-ray disc edition of the film when it hits stores on Nov. 13. And, although the soundtrack for the theatrical print was mixed in Dolby Atmos and Dolby Surround 7.1 the disc and digital releases only include 5.1 surround.
However, the early digital release of the film available at services like iTunes and Vudu does offer Alpha in 4k with Dolby Vision/HDR10. It sells for $14.99 in HD/UHD.
All home media releases of Alpha include a new Director's Cut of the film along with the theatrical release. Bonus materials include an Alternate Opening & Ending, Deleted Scenes with Director's Commentary, and featurettes Meet the Wolf Behind Alpha, Boy & Wolf, A Hero's Journey, and Building the World.
You can order a copy of Alpha for just $9.95 (List: 34.99) on Blu-ray or $9.96 (List: $30.99) on DVD.
Bonus materials
Alternate Opening & Ending
Deleted Scenes with Director's Commentary
Meet the Wolf Behind Alpha
Boy & Wolf
A Hero's Journey
Building the World