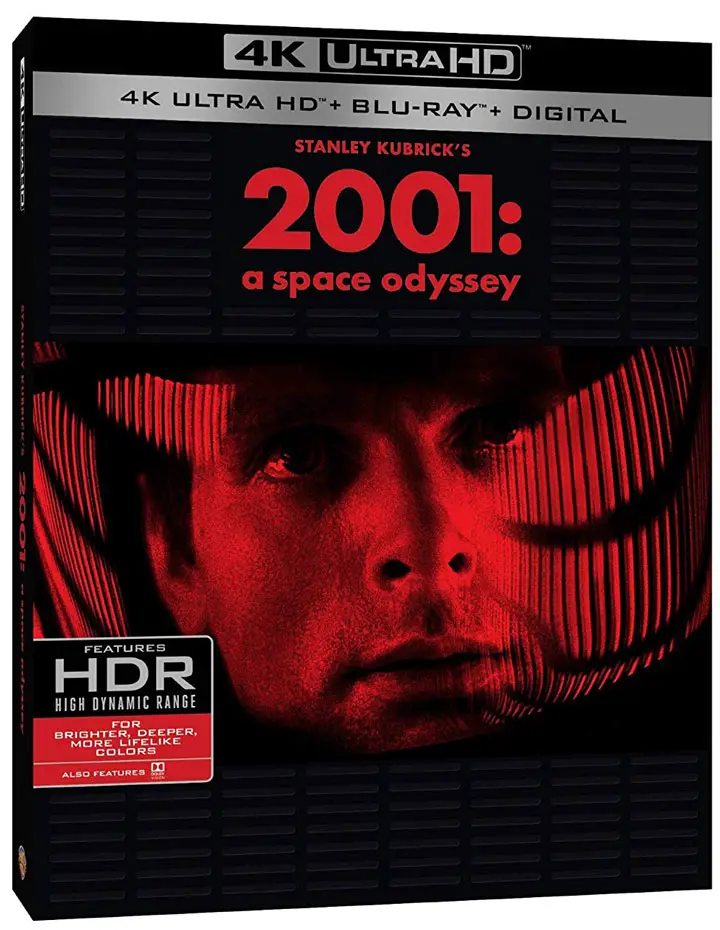 2001: A Space Odyssey may be the most anticipated 4k Blu-ray release of the year. In terms of its historical relevance to science fiction films there is no equal, and many of us are looking forward to seeing this newly remastered version that will be packaged in both Blu-ray and Ultra HD Blu-ray editions.
But it won't happen this month. The release date that was previously set for Tuesday, Oct. 30 has been pushed back to Nov. 20. That's really only about 3 weeks later than expected, but hopefully will be the last delay on this title.
One good thing that came out of the long wait (we first reported on the 4k Blu-ray edition back in March) is that the price has dropped significantly from the list price of $41.99 to $22.99. And, the 1080p Blu-ray is selling for only $13.79 (both are available to pre-order from Amazon).
The upgraded disc presentation of 2001: A Space Odyssey comes at the 50th Anniversary of the film's theatrical premiere in 1968. Director Stanley Kubrick (who co-wrote the screenplay with Arthur C. Clarke) was nominated for Best Director as well as Best Writing, Story and Screenplay and Best Art Direction/Set Decoration. The movie did win the Oscar for Best Effects, Special Visual Effects at the 1969 Academy Awards.
The first 4k Ultra HD Blu-ray edition of 2001: A Space Odyssey displays the film in 2160p resolution at 2.2:1 (16×9) aspect ratio with High Dynamic Range color enhancements via Dolby Vision. The edition also features a new DTS-HD Master Audio 5.1 soundtrack as well as original 6-track theatrical mix formatted for 5.1.
The 3-disc edition from Warner Bros. includes the remastered film on Ultra HD Blu-ray, Blu-ray (from the newly remastered digital transfer) and Digital Copy. A collectible booklet, collectible art cards, and a Blu-ray disc with plenty of bonus features (in HD) are also part of the edition.
Also Read: 2001: A Space Odyssey' 4k Blu-ray Release Date & Details