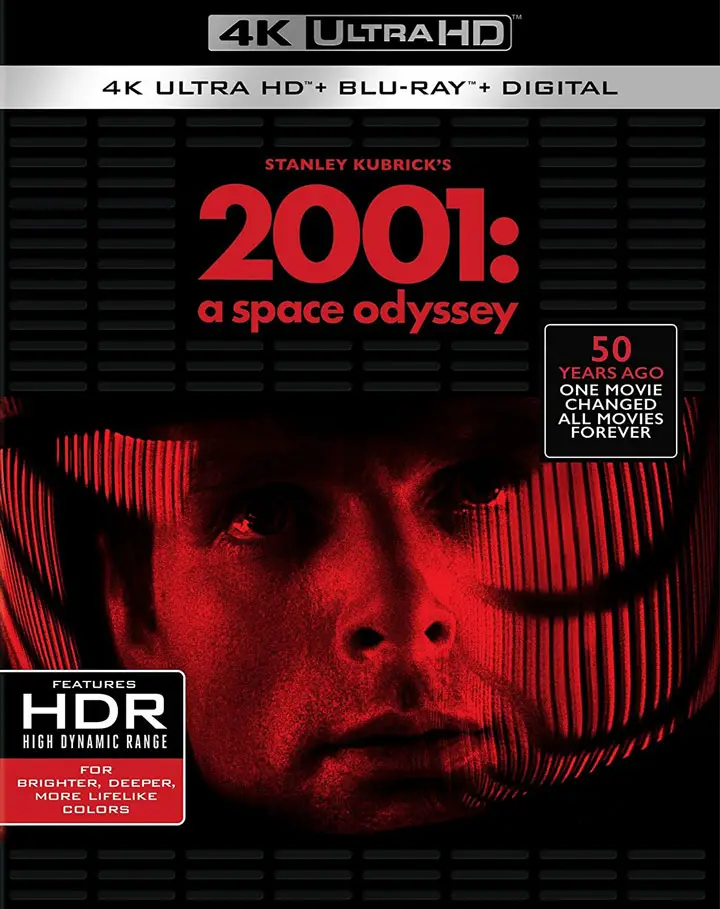 We first heard about a 4k release of Stanley Kubrick's 2001: A Space Odyssey (1968) back in March but were missing some of the core details of the re-issue of the sci-fi classic such as audio formats, HDR specification, and what bonus materials might be included.
It turns out there will also be a newly-remastered Blu-ray edition of the film (pictured below). Both Blu-ray releases come from a newly remastered transfer of 2001: A Space Odyssey celebrating 50 years since its theatrical premiere.
The 4k Ultra HD Blu-ray presents the sci-fi classic in 2160p resolution at 2.2:1 (16×9) aspect ratio with High Dynamic Range color. The soundtrack has also been upgraded to  a DTS-HD Master Audio 5.1, as well as the original 6-track theatrical audio mix that's formatted for DTS-HD Master Audio 5.1.
The premium, 4k Blu-ray edition of 2001: A Space Odyssey includes the film on Ultra HD Blu-ray, Blu-ray (with the newly remastered print) and a Digital Copy. Extras include a collectible booklet, collectible art cards, and a Blu-ray disc with plenty of bonus features (in HD).
2001: A Space Odyssey on Ultra HD Blu-ray carries an MSRP of $41.99 while the Blu-ray edition is priced $19.99. The discs will hit stores on October 30, 2018. See below for updated pricing. Order from Amazon
Special Features:
Audio Commentary from Keir Dullea and Gary Lockwood
Remastered Blu-ray with Commentary from Keir Dullea and Gary Lockwood
Channel Four Documentary: The Making of a Myth
Featurettes:

Standing on the Shoulders of Kubrick: The Legacy of 2001
Vision of a Future Passed: The Prophecy of 2001
2001: A Space Odyssey – A Look Behind the Future
What Is Out There?

2001: FX and Early Conceptual Artwork
Look: Stanley Kubrick!
11/27/66 Interview with Stanley Kubrick by Jeremy Bernstein [Audio Only]
Original Theatrical Trailer
Premium Booklet
Art Cards
Subtitles: English, Latin Spanish, Parisian French, Canadian French, Brazilian Portuguese
[Update 1: The release date 2001: A Space Odyssey to 4k Blu-ray has been set for Oct. 30, 2018.]
[Update 2: 2001: A Space Odyssey on 4k Blu-ray has been pushed back to Nov. 20, 2018. The 3-disc edition is available to order from Amazon. See updated pricing from Amazon below.]