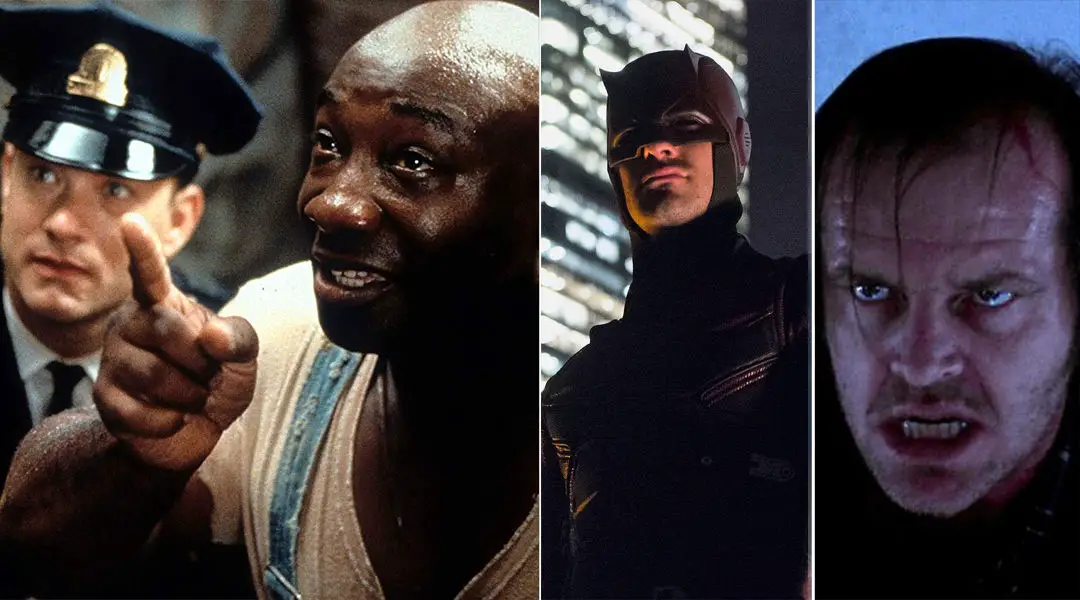 Have you already watched everything you're interested in on Netflix? Well, just like a bookstore there are always new titles arriving. This month there are around 100 new programs to stream on Netflix. Here are some highlights followed by a full list.
In movies, 2x Oscar-nominated Mystic River (2003) from director Clint Eastwood, the now-classic drama Once Upon a Time in America (1984) starring Robert De Niro, 4x Oscar-nominated drama The Green Mile (1999) starring Tom Hanks and Michael Clarke Duncan, and Stanley Kubrick's The Shining (1980) are just a few of the great movies arriving on Monday, Oct. 1.
In comedy, check out Black Dynamite (2009), 3x Oscar-nominated Blazing Saddles (1974), Pee-wee's Big Adventure (1985), and Adam Sandler films Anger Management and Billy Madison all premiering on Oct. 1.
In television and episodic series Gotham: Season 4 arrives on Oct. 1, MeatEater: Season 7 on Oct. 2, Big Mouth: Season 2, Super Monsters: Season 2 and Little Things: Season 2 on Oct. 5. Later in the month, Marvel's Daredevil: Season 3 and Making a Murderer: Part 2 arrive on Oct. 19.
Here's a look at all the new titles premiering on Netflix in October.
Netflix Movies and Shows Coming Oct. 2018
Oct. 1
Angel Eyes
Anger Management
Billy Madison
Black Dynamite
Blade
Blade II
Blazing Saddles
Empire Records
Gotham: Season 4
Kevin Hart: Laugh at My Pain
Kevin Hart: Seriously Funny
Must Love Dogs
My Little Pony Equestria Girls: Rollercoaster of Friendship
Mystic River
New York Minute
Once Upon a Time in America
Pay It Forward
Pee-wee's Big Adventure
Robin Hood: Prince of Thieves
Rumble in the Bronx
She's Out of My League
Sommersby
The Dead Pool
The Devil's Advocate
The Green Mile
The Lake House
The Neverending Story
The Shining
V for Vendetta
Zack and Miri Make a Porno
Oct. 2
Joe Rogan: Strange Times
MeatEater: Season 7
Monty Python: The Meaning of Life
Monty Python's Life of Brian
Oct. 3
Oct. 4
Creeped Out
The Haunting of Molly Hartley
Violet Evergarden: Special: Extra Episode
Oct. 5
Big Mouth: Season 2
Dancing Queen
Elite
Empire Games
Little Things: Season 2
Malevolent
Private Life
Super Monsters Save Halloween
Super Monsters: Season 2
The Rise of Phoenixes
YG Future Strategy Office
Oct. 6
Oct. 8
Disney's Sofia the First: Season 4
Mo Amer: The Vagabond
Oct. 9
Terrace House: Opening New Doors: Part 4
Oct. 10
Oct. 11
Salt Fat Acid Heat
Schitt's Creek: Season 4
Oct. 12
Apostle
Errementari: The Blacksmith and the Devil
Feminists: What Were They Thinking?
FightWorld
ReMastered: Who Shot the Sheriff
Tarzan and Jane: Season 2
The Boss Baby: Back in Business: Season 2
The Curious Creations of Christine McConnell
The Haunting of Hill House
The Kindergarten Teacher
Oct. 15
Octonauts: Season 4
The Seven Deadly Sins: Revival of the Commandments
Oct. 16
Ron White: If You Quit Listening, I'll Shut Up
Oct. 19
Accidentally in Love
Ask the Doctor
Worst.Weekend.Ever.
Derren Brown: Sacrifice
Distrito salvaje
Gnome Alone
Haunted
Hip-Hop Evolution: Season 2
Illang: The Wolf Brigade
Larva Island
Making a Murderer: Part 2
Marvel's Daredevil: Season 3
The Night Comes for Us
Wanderlust
Oct. 21
Oct. 23
Oct. 24
Oct. 26
Been So Long
Castlevania: Season 2
Chilling Adventures of Sabrina
Dovlatov
Great News: Season 2
Jefe
Get more Netflix News on our dedicated channel!