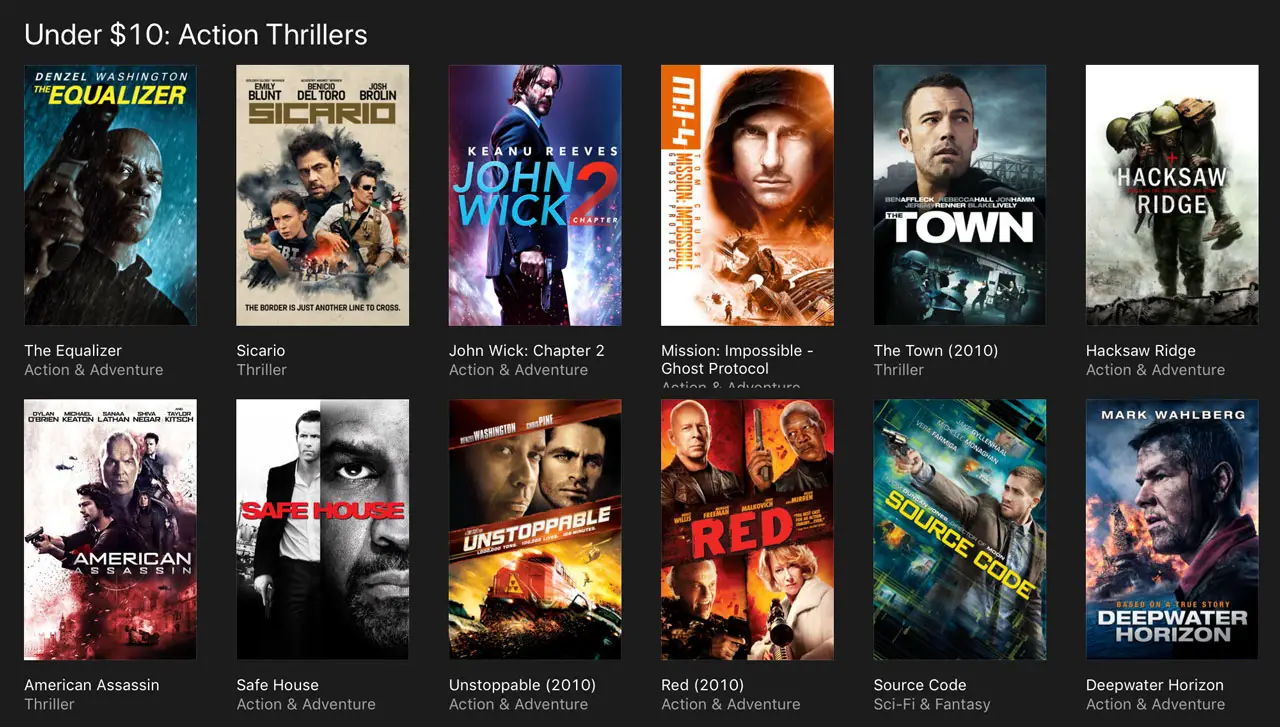 Whether you're a fan of Apple products or hater you can't deny iTunes has some of the best prices on digital movies in 4k.
In fact, when Apple launched Apple TV 4k about a year ago they surprised everyone by offering the Digital 4k versions of movies for the same price as HD. What's more, if you had a Digital HD movie it was automatically upgraded to 4k (if available).
Right now in their "Under $10: Action Thrillers" category they've got titles such as The Equalizer, Sicario, John Wick Chapter 2, and Mission: Impossible – Ghost Protocol all for under $10 each. Sicario is one of the least expensive films in Apple's library priced only $6.99.
Just about all of the 4k titles feature HDR in either Dolby Vision or HDR10, so TVs that support the format can display more color depth than without. By the way, there are some mobile devices that will support HDR such as
Unfortunately for audio, Apple is still in the testing stages of offering immersive audio formats. At WWDC 2018 the company announced Dolby Atmos would be launching in the fall with select titles to feature the combination of Dolby Vision and Dolby Atmos. The Apple TV 4k beta page currently shows Blade Runner 2049, Justice League, and Ready Player One as titles featuring both Dolby formats. For now, and for most titles, you'll be stuck with Dolby Digital 5.1.
By the way, for a limited time iTunes is selling the recent release A Quiet Place in 4k with Dolby Vision for $12.99.