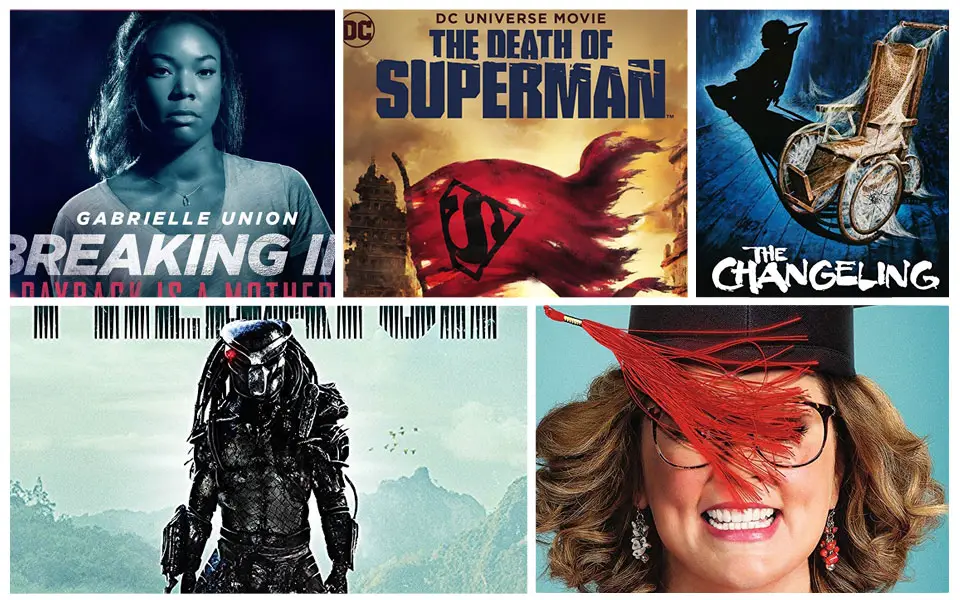 This week Warner Bros.' comedy Life Of The Party starring Melissa McCarthy gets released to a 2-disc Blu-ray edition with DVD, Digital Copy and several extras including a gag reel and deleted scenes.
DC Entertainment's The Death of Superman on Blu-ray follows the straight-to-video release of the animated feature with voiceovers from Jerry O'Connell (Superman), Rebecca Romijn (Lois Lane) and Rosario Dawson (Wonder Woman).
Breaking In starring Gabrielle Union is available in a Unrated Director's Cut with Blu-ray, DVD and Digital Copy.
And, Riverdale: The Complete Second Season is a highlight from this week's new TV releases to Blu-ray.
On Ultra HD Blu-ray there are a half dozen new titles including DC's The Death of Superman, Predator, and Transporter 3 (here's an overview of all 4k Blu-ray titles releasing in August.)
New on Blu-ray Disc, Aug. 7, 2018
4k Blu-ray
The Death of Superman
Predator
Predator 3-Movie Collection
Transporter 3
Marrowbone
Stagecoach: The Texas Jack Story
Blu-ray
TV
Riverdale: The Complete Second Season
Happy Endings – The Complete Series
Mobile Suit Gundam 00 – Second Season
Garo: Season 2 – Collection 1
PBS – Earth's Natural Wonders: Life at the Extremes: Season 2
Movies
Life Of The Party
The Death of Superman
2036 Origin Unknown
Breaking In
Wildling
Kingdoms of the Sky – PBS
The Boxcar Children: Surprise Island
Paint it Red
Digimon Adventure tri.: Coexistence
Marrowbone (2017)
Revenge (2017)
Pyewacket (2017)
On Chesil Beach (2017)
Lowlife (2017)
Killer Bees (2017)
Zama (2017)
Flora (2017)
Aardvark (2017)
Cartel "Juarez" 2045 (2017)
Dead Shack (2017)
All Summer's End (2017)
Big Fish & Begonia (2016)
Gehenna: Where Death Lives (2016)
Keepers of Magic (2016)
Paper Lanterns (2016)
John From (2015)
Cradle Will Rock (1999)
Desecration (1999)
Mac And Me (1988)
Predator (1987) – repackage
The Changeling – Limited Edition (1980)
Someone's Watching Me! (1978)
Queen of the Stardust Ballroom (1975)
Street Mobster (1972)
Never So Few (1959)
Here are last week's new Blu-ray releases in case you missed them.