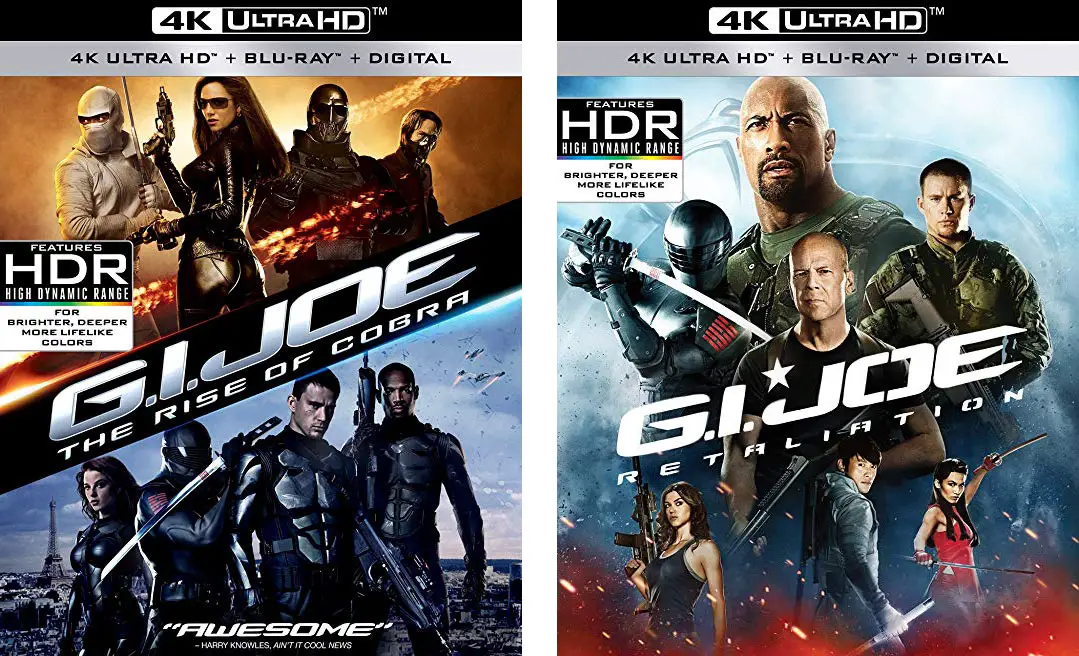 On Tuesday, July 31 G.I. Joe: Retaliation and G.I. Joe: The Rise of Cobra will release to 4k Blu-ray. Each edition from Paramount Home Video comes with an extra Blu-ray disc and a code to redeem a Digital Copy online. [NOTE: These titles have been pushed back. See an updated article.]
Both Ultra HD Blu-ray titles present the films at 2160p resolution, which is an upscale from the original 2k masters. While some may not consider the new editions "native" or "real" 4k, the discs do add four-times the amount of pixel resolution for improved detail.
In addition, for those of you with HDR-supporting TVs the 4k discs feature High Dynamic Range (HDR) via the open source HDR10 specification that allows up to 10-bits of color depth (an improvement over the max of 8-bits on conventional Blu-ray).
G.I. Joe: The Rise of Cobra (2009) stars Dennis Quaid, Channing Tatum, and Marlon Wayans. The film was directed by Stephen Sommers (known for producing Van Helsing (2004) and writing The Mummy (1999) and takes the elite G.I. Joe team on a task to stop Cobra from launching illegal warheads.
G.I. Joe: Retaliation (2013) stars Dwayne Johnson, Channing Tatum, and Adrianne Palicki. Directed by Jon M. Chu (Now You See Me 2), the G.I. Joe unit faces threats from both Cobra and their own government, and the impossible mission of rescuing the President.