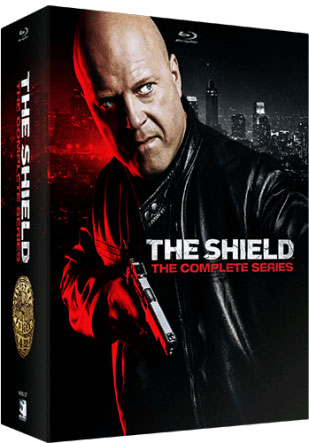 Mill Creek has announced the Emmy and Golden Globe-winning TV series "The Shield" will be released in its entirety to Blu-ray Disc. The Special Collector's Edition will hit stores on Tuesday, November 6th in a DigiBook format with hundreds of production stills and behind-the-scenes photos.
Total runtime for the 18-disc set is sixty-nine hours and fifty one minutes, formatted in 1080p resolution at widescreen resolution on BD Region A discs.
All 88 episodes of the series that ran from 2002 to 2008 have been digitally restored for release on high definition Blu-ray for the first time, and bonus features include deleted scenes, commentaries from the cast and crew, featurettes and new liner notes written by creator Shawn Ryan.
"We are thrilled to be able to present 'The Shield' in its entirety, available for the first time on Blu-ray having been masterfully restored in widescreen, high definition," said Barrett Evans, VP of Marketing and Product Development for Mill Creek Entertainment. "The series had a monumental impact on television when it debuted, and its themes and subject matter are still poignant and relevant today."
"The Shield: The Complete Series" is priced $229.98 (MSRP). (See below for current pricing from Amazon.)
Special Features:
"The Shield Reunion" – cast & crew reunion special to reminisce and reflect on being a part of this landmark series
"The Shield:  A Retrospective" – a look back at the lasting impact the series has had on TV and how its themes are still relevant today
"Restoring The Shield" – a behind-the-scenes look at the technological processes involved in the High Definition upgrade
"The Critical Response to The Shield" – how critics initially received the series and if/how their opinions changed throughout the duration of the series' run
"The Shield Writers Room" Reunion from the ATX Festival Panel