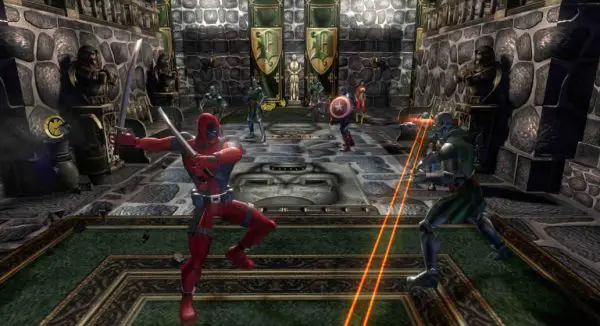 You don't need to be reminded how big Marvel is. You've seen the movies, you've seen the merchandise, and you've watched Marvel – and Disney – take over the entertainment world in a way that few people could have ever predicted. Simply put, Marvel is everywhere.
Well, almost everywhere.  After all, there just aren't that many Marvel video games left on the market.
To be fair, there are Marvel video games out there. Marvel vs. Capcom 3 was released not too long ago (even if it didn't do nearly as well as people had hoped), there's a Spider-Man game coming out later this year for PS4 that looks phenomenal, and there's certainly no shortage of Marvel mobile games out there. There are Marvel games out there for Marvel fans who want something to play after they've seen the latest Marvel movie or read a new Marvel comic.
The problem is that there just aren't that many notable Marvel games out there. While Marvel mobile titles like Marvel Puzzle Quest are enjoyable in their own right, matching colored tiles isn't exactly what most people want to do when they've just finished watching the latest epic Marvel film. The same goes for the simplified fighting of Marvel: Contest of Champions and even the sometimes repetitive nature of the Marvel Lego games. Unlike the Marvel films which became popular partially because they exceeded the expectations of quality associated with most comic book films, Marvel games often feel like they're trying to get by on as little effort as possible.
Truth be told, that seems to be the root of the Marvel video game problem. Reports indicate that Disney isn't really that excited about the prospect of getting into the console game market in a big way. They are far more interested in the revenue potential of the mobile market where it's easy to create a relatively simple game and continue to profit off it for months and even years. It seems that the failures of the Disney Infinity line have made them gun-shy about the risk/reward of modern console games.
Also Read: Why Microsoft Will Release An Xbox Two Elite
As unfortunate as that is in and of itself, Disney's rumored policy regarding major Marvel console games is made that much worse by the long history of exceptional Marvel video games released before the most recent generation of consoles. While we'd be lying if we told you that every Marvel console game – or even the majority of them – are worth playing, there was a time when Marvel fans at least had plenty of options when it came to playing games based on some of their favorite superheroes.  While Disney is willing to license such games from time to time, their process for doing so remains mysterious.
What really stings is that many of those great Marvel games we did get in previous generations are no longer available. From titles like The Punisher, Deadpool, and X-Men Origins: Wolverine which remain generally underrated, to true classics like X-Men Legends, Ultimate Spider-Man, and Marvel vs. Capcom 2, there are many Marvel games out there that can only be played if you own an original copy of them. Otherwise, they have escaped the grasp of the vast digital market due to licensing issues. Even the beloved Marvel Ultimate Alliance (which received a much-hyped re-release not long ago) was recently pulled from digital stores with virtually no warning.
It's funny, but many gamers can probably remember a time when the idea of licensed games was associated with the cheapest of video game business practices. There was a sense of dread that surrounded the entire concept. Yet, generations of developers broke through the clouds of doubt and delivered the kind of interactive experiences that allowed us to live our superhero dreams in ways that we could have never imagined. While it's a mystery why there aren't more Marvel games at a time when Marvel is hotter than ever, the true crime is that the works of those developers who contributed to the Marvel universe are slowly being scrubbed from everything but memories.