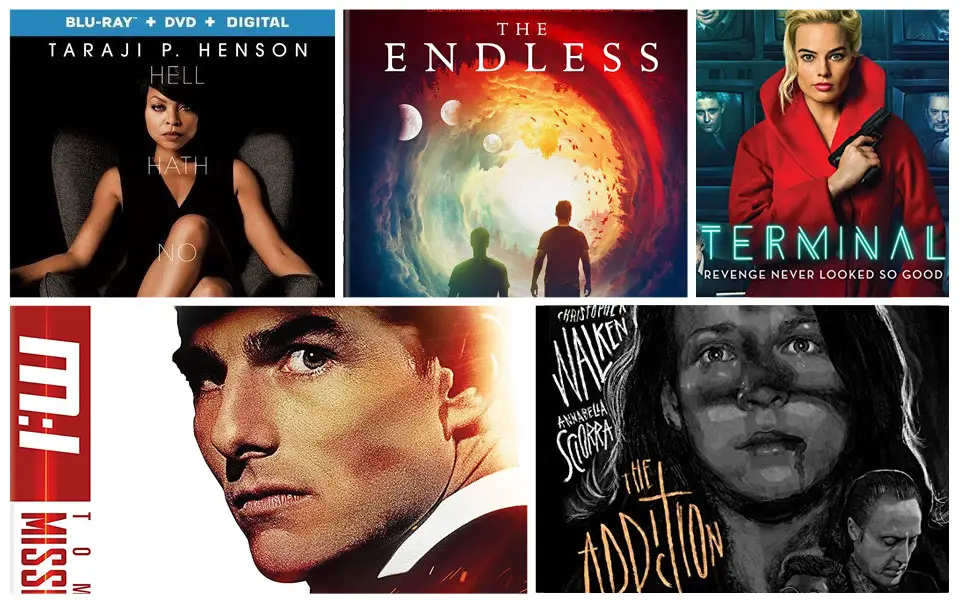 This week we counted over 40 new Blu-ray releases including new 4k Ultra HD Blu-ray titles. On Blu-ray, you can pick up Tyler Perry's Acrimony starring Taraji P. Henson, Season 1 of Black Lightning from DC Entertainment/Warner Bros., and, the thriller Terminal starring Margot Robbie and Simon Pegg.
On 4k Blu-ray this week the entire Mission: Impossible film franchise is now available from Paramount Home Media, Jack Reacher gets a late Ultra HD edition (be sure to enter our giveaway), and Groundhog Day starring Bill Murray has been upgraded to 4k Blu-ray.
New on Blu-ray, June 26, 2018
4k Blu-ray
Jack Reacher
Mission: Impossible
Mission: Impossible II
Mission: Impossible III
Mission: Impossible – Ghost Protocol
Mission: Impossible – Rogue Nation
Groundhog Day
Blu-ray
Terminal
Tyler Perry's Acrimony
The Endless
The Addiction (1995)
Gemini
Spinning Man
A Breed Apart
Escape Of Prisoner 614
Hannah
All For One
China Salesman
German Angst (2015)
Garo Special: Beast Of The Demon Night (2006)
The Banishment (2007)
The Return (2003)
Sleepless in Seattle (1993) – 25th Anniversary
Disorganized Crime (1989)
Lupin the 3rd: Bye Bye Lady Liberty (1989)
Miracles (1986)
Vigil (1984)
Survive! (1976)
Female Trouble (1974) – Criterion Collection
Super Fly (1972) – Warner Archive
The Colossus of Rhodes (1961) – Warner Archive
Virgin Spring (1960) – Criterion Collection
TV Series
Hunter x Hunter Set 4
Grimoire Of Zero
Black Lightning: Season 1
The Martian Chronicles (1980)
The Pink Panther Cartoon Collection: Volume 2
Strawberry Panic: The Complete Series
Bananya The Complete Series
Collections
The Puppet Master Collection
In case you missed it, here are last week's new Blu-ray releases.