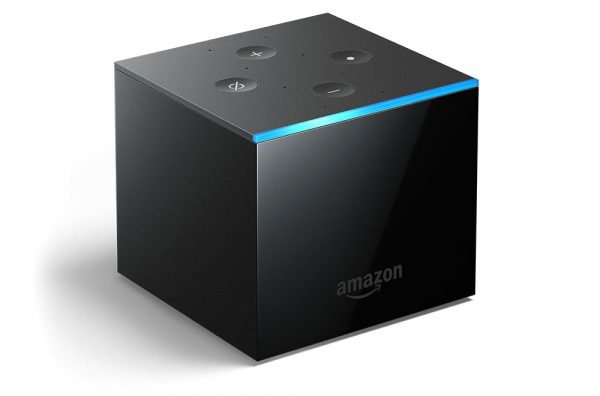 Amazon's Fire TV Cube launches on June 21, 2018. But should you upgrade your existing model or buy your first Fire TV? Let's take a look at the new media player/speaker dubbed "the Cube" that evolved out of three generations of Fire TV to be Amazon's most interactive streaming media player to date.
Voice Integration
Fire TV Cube has eight microphones and one speaker built-in, and can even be listening when the TV is turned off. Alexa voice commands can control IR-enabled devices such as TVs, sound bars, cable boxes, and A/V receivers. And, the device is equipped with what Amazon calls "Far-field voice control" (as well as Near-field) so your voice can be heard from any direction. This is where the Fire TV Cube prevails over the Fire TV that relies on the Alexa Voice Remote.
Processor/Storage/Ram
The Fire TV Cube has almost the exact same specs as Fire TV with a Quad-core 1.5GHz processor and 2GB RAM memory. But, the Fire TV has updated storage capacity to 16GB, doubling the 8GB capacity of Fire TV (3rd-generation).
Ports
Fire TV Cube includes the Amazon Ethernet Adapter so you can utilize the USB port to connect to a wired Ethernet port — nice for "hard-wiring" to the internet rather than relying on WiFi. The previous Fire TV model and Fire TV Stick models do not include the optional Amazon Ethernet Adapter ($14.99).
Video/Audio
Both the 3rd-generation Fire TV and Fire TV Cube support 4k (2160p) video at up to 60 frames-per-second. And, the devices can play content with High Dynamic Range using the HDR10 specification. As far as sound, both devices can passthrough Dolby Atmos to compatible audio systems. So, there really isn't much to compare in terms of video/audio features.
Price
The new Fire TV Cube is priced $119, while the Fire TV is regularly priced $69.99, making it cost almost twice as much. The Fire TV is also currently discounted to $49.99, which amounts to a hefty $70 difference between the two devices. Fire TV Cube can also be purchased in a bundle with a Cloud Cam for $199.98. Here's where you can buy Amazon Fire TV Cube.
Conclusion
If you want a bigger and heavier device that can take Alexa voice commands from any direction in a room the Fire TV Cube might be right for you. We say bigger and heavier not as a ding but rather to remind you that it will likely be displayed prominently in a room rather than tucked away behind a TV like the lightweight Fire TV dongle. That's because if used for voice commands you'll want those microphones to be accessible in as many directions as possible. You just have to ask yourself, is $119 worth the new Alexa features?


Fire TV Cube vs. Fire TV Comparison
Feature
Fire TV Cube
Fire TV (3rd-Gen)
Video
720p/1080p/2160p (up to 60fps)
720p/1080p/2160p (up to 60fps)
HDR
HDR10
HDR10
Audio
Dolby Atmos, 7.1 surround sound, 2-channel stereo, and HDMI audio pass through up to 5.1
Dolby Atmos compatibility, Dolby Digital Plus, and Dolby Digital
Processor
Quad-core 1.5GHz
Quad-core 1.5GHz
GPU
Mali450 MP3
Mali450 MP3
Memory
2GB
2GB
Storage
16GB
8GB
Ports
HDMI 2.0a, Power, Micro USB, Wired Infrared support
5 Total: 5.5 mm DC Jack
Type A HDMI 1.4b output, w/HDCP
Optical Audio (TOSLINK)
10/100 Ethernet
USB 2.0 Type A
Remote Control
Yes (Bluetooth)
Yes (Bluetooth)
Voice Support
Yes
No (Yes, via Echo device)
Alexa Voice Remote
Yes
Yes
Speakers
Yes (1)
No
Microphones
Yes (8)
No
Bluetooth
Bluetooth 4.2 + LE
Bluetooth 4.2 + LE
Wi-Fi
IEEE 802.11 b/g/n
IEEE 802.11 b/g/n
Operating System
Android
Android
Warranty
1-year Limited
1-year Limited
Size
3.4" x 3.4" x 3.0"
2.6" x 2.6" x 0.6"
Weight
16.4 oz
3.1 oz
Price
$119
$69.99
Usage: If you would like to use this chart please include credit and/or link back to HD Report.
[Editor's Note: This article was updated with a revision to the storage capacity of Fire TV Cube.]