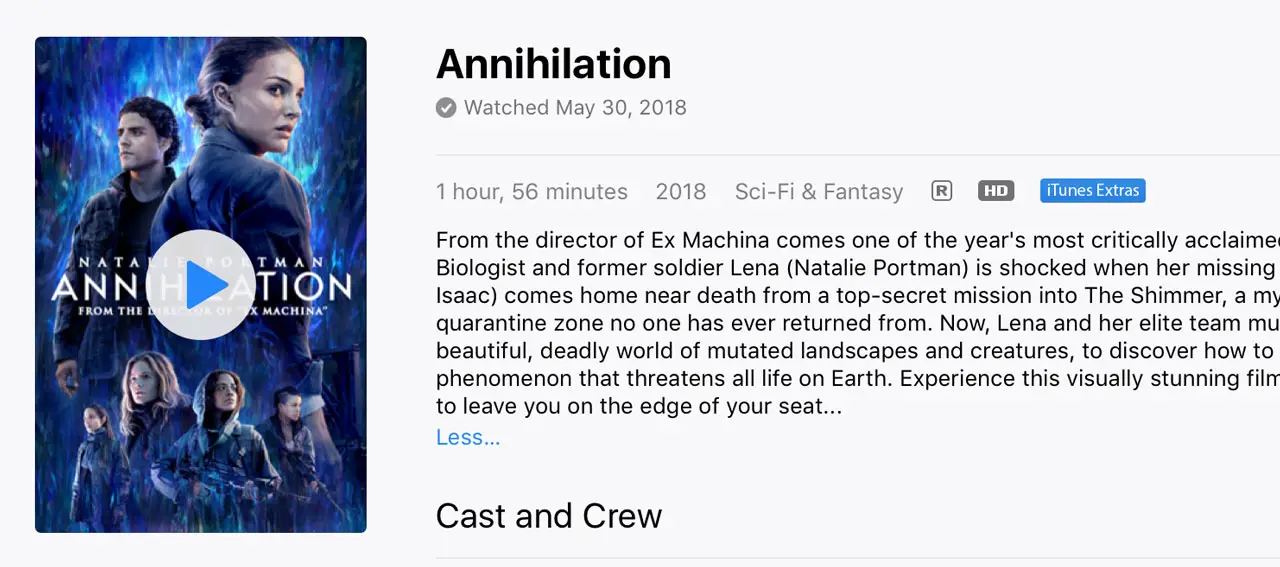 You may have been as excited as I was to watch Annihilation at home on my own home theater system. It's one of those films that was visually striking in the cinema but I wondered how it would translate to disc and smaller screens. (Read our review of Annihilation on 4k Blu-ray). But while redeeming the digital copy of the film I learned something and wanted to pass on the information.
The Annihilation iTunes Digital Copy will not be transferred to other platforms like Amazon Video, Google Play, FandangoNow, or Vudu. That's because this is a Paramount Pictures distribution and Paramount is not (yet) a partner with Disney's Movies Anywhere which shares titles between most platforms except Paramount and Lionsgate. (Read how Movies Anywhere connects your digital titles.)
However, the insert included with Annihilation on Blu-ray and Ultra HD Blu-ray also includes an UltraViolet copy through ParamountMovies.com. Redeeming this way will get your movie ported over to FandangoNow.com, Vudu.com, and studio websites (Sony and Paramount) and apps that will play UV movies.
[Update 1: Thank you to one of our readers who pointed out this title will dual redeem. We are following up with customer service or a possible error on our part to see if we can get it redeemed on both platforms. Hold tight.]
[Update 2: After getting some help we were able to redeem on both iTunes and UV on ParamountMovies (it hasn't shown up yet on Fandango or Vudu). It's worth noting that the code insert says "Code is valid for your choice of either one UltraViolet or one Digital Copy redemption only." ] So, while they give you an "or" choice it looks like the code for Annihilation can be redeemed in two places.
Now, if you're strictly an Apple iTunes user you should have no issue with this. But because Paramount Pictures isn't linked with MoviesAnywere the  Annihilation, along with other movies from the studio and from Lionsgate, will be for the time being restricted to iTunes and the iTunes app on supporting devices.
The good news is, though, that Annihilation on iTunes plays in 4k with Dolby Vision HDR on supporting devices. See what other movies are playable in 4k/HDR on Apple TV 4k.
Contributing Author: Josh Henderson
[Editor: This article has multiple revisions for clarity.]