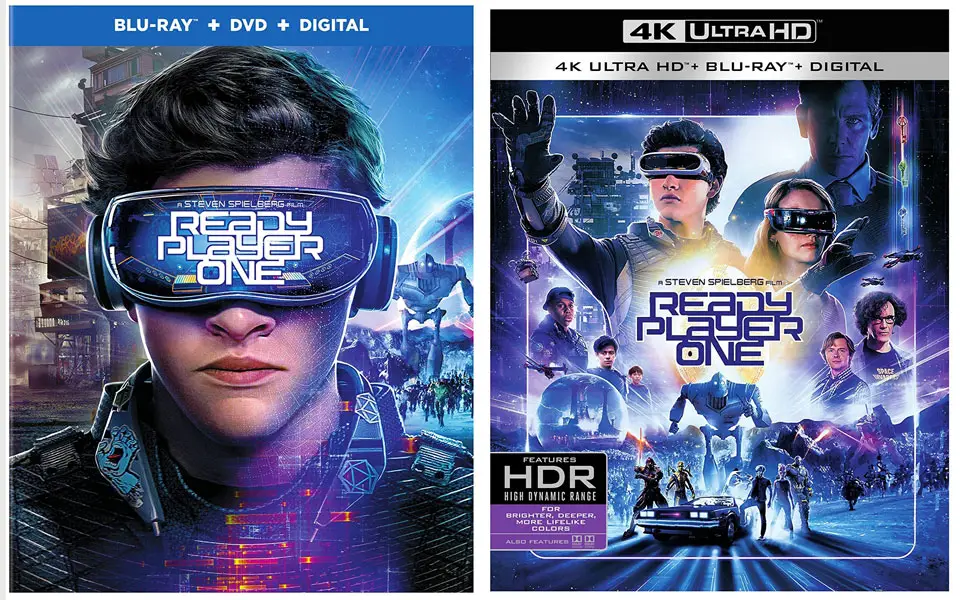 Steven Spielberg's sci-fi adventure Ready Player One premiered in theaters at the end of March, and now has a release date to home media formats including Blu-ray, Ultra HD Blu-ray and DVD.
The film will be available on disc and On Demand starting Tuesday, July 24th. The disc formats will likely follow an early digital release either one or two weeks before.
On Blu-ray, 3D BD and UHD BD Ready Player One is presented at 2.4:1 (16×9) widescreen aspect ratio. The Blu-ray and 3D Blu-rays offer up to 1080p resolution while the 4k Blu-ray extends the video to 2160p with HDR via the Dolby Vision specification.
The soundtrack for all Blu-ray editions is offered in immersive Dolby Atmos-TrueHD backed by DTS-HD Master Audio for systems that don't support Atmos.
Bonus features include over 90 minutes of content loaded with Easter eggs, 80's nostaglia, and how they achieved the impossible including: "The '80's: You're The Inspiration"; "Game Changer: Cracking the Code"; "Effects for a Brave New World"; "Level Up: Sound for the Future"; "High Score: Endgame"; and "Ernie & Tye's Excellent Adventure."
The 2-disc Blu-ray editions also include either a DVD or Blu-ray copy along with a digital copy to redeem with Movies Anywhere.
Special Features
The '80's: You're The Inspiration
Game Changer: Cracking the Code
Effects for a Brave New World
Level Up: Sound for the Future
High Score: Endgame
Ernie & Tye's Excellent Adventure
Ready Player One is available on Blu-ray Disc, 4k Blu-ray, and 3D Blu-ray from Amazo