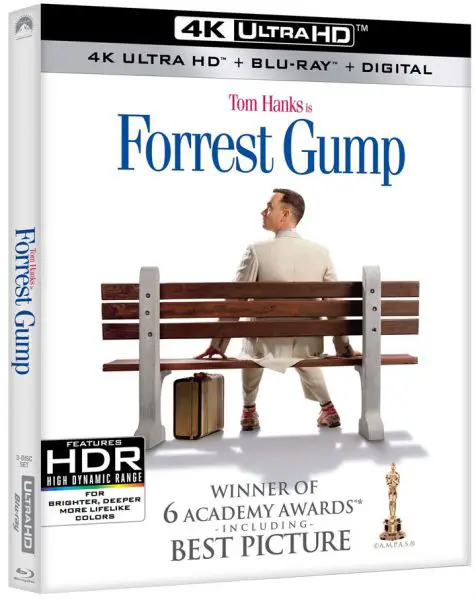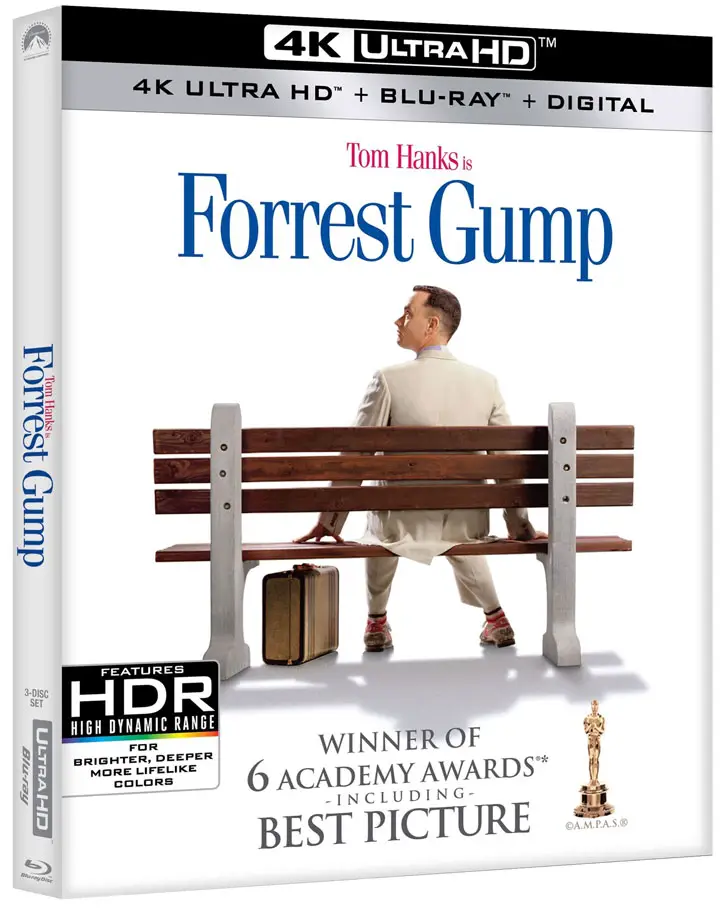 Ranked No. 71 on AFI's 100 Greatest American Films, Forrest Gump will soon be available to view at home in 4k. The Ultra HD Blu-ray edition of the film will feature High Dynamic Range (HDR) color improvements in addition to upgraded 2160p video resolution.
What's more, the audio on this 4k edition has been improved since the last Blu-ray release with an immersive Dolby Atmos soundtrack, as well as French and Spanish in 5.1 Dolby Digital and Portuguese in 2.0 Dolby Digital. The included 1080p Blu-ray Disc hasn't changed its English 5.1 DTS-HD Master Audio track.
Special features on the 4k Blu-ray include commentary with director Robert Zemeckis, producer Steve Starkey, and art director Rick Carter. A separate commentary with producer Wendy Finerman is also provided. The Blu-ray copy includes those commentaries along with another dozen extras like "The Magic of Makeup" and "The Art of Screenplay Adaptation."
Forrest Gump arrives this summer on Ultra HD Blu-ray in a 2-disc combo from Paramount on June 12th, 2018. The combo edition includes an Ultra HD Blu-ray, Blu-ray, and Digital Copy. (Purchase 'Forrest Gump' 4k Blu-ray on Amazon.)
The film won six Academy Awards including Best Picture, Best Actor in a Leading Role (Tom Hanks), Best Director (Robert Zemeckis), Best Writing – Screenplay Based on Previous Material, Best Film Editing, and Best Effects – Visual Effects. The film was nominated for an additional seven Oscars including Best Cinematography, Best Actor in a Supporting Role (Gary Sinise), and Best Music, Original Score.
Special Features:
4K UHD
Commentary with Robert Zemeckis, Steve Starkey and Rick Carter

Commentary with Wendy Finerman
Blu-ray
Commentary with Robert Zemeckis, Steve Starkey and Rick Carter

Commentary with Wendy Finerman

Musical Signposts to History

Greenbow Diary

The Art of Screenplay Adaptation

Getting Past Impossible – Forrest Gump And The Visual Effects Revolution

Little Forrest

An Evening With Forrest Gump

The Magic of Makeup

Through The Ears of Forrest Gump – Sound Design

Building The World Of Gump-Production Design

Seeing Is Believing – The Visual Effects Of Forrest Gump

Screen Tests