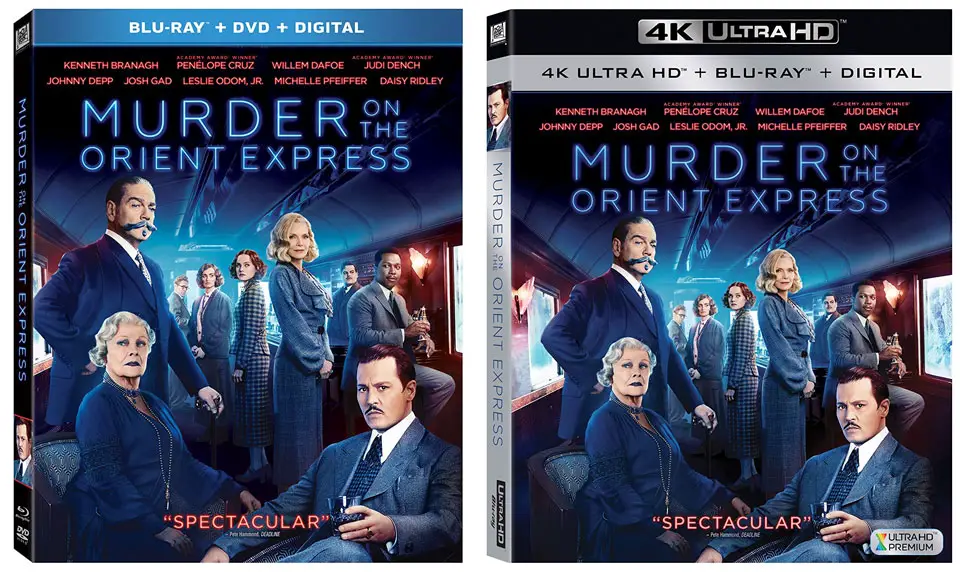 One of the most enoyable films of late last year was the mystery "Murder On The Orient Express" directed by 5-time Oscar-nominated Kenneth Branagh. The film is based on Agatha Christie's 1934 novel of the same name, but also follows the Sidney Lumet film production released over 40 years ago that starred Albert Finney, Lauren Bacall, and Ingrid Bergman.
"Murder On The Orient Express" (2017) also features an all-star cast, with Branagh playing the role of detective Hercule Poirot, supported by Penélope Cruz, Willem Dafoe, Judi Dench, Daisy Ridley, and Johnny Depp among others. The film, a light watch with some surprises, gets a 52 Metascore from Metacritic and 57% on Rotten Tomatoes' Tomatometer.
For those who missed it in theaters or would like to own a copy of the film, 20th Century Fox has announced the release dates for Blu-ray, Ultra HD Blu-ray, DVD and Digital. "Murder On The Orient Express" will first be available in digital formats on Feb. 20, followed a week later by disc formats on Feb. 27, 2018.
On Blu-ray and 4k Blu-ray there are a bunch of extras including almost a dozen deleted scenes, an intimate portrait of Agatha Christie, filming murder on the Orient Express, and director commentary, to name a few.
The film is presented in 1080p on Blu-ray, and 2160p on Ultra HD Blu-ray with HDR (High Dynamic Range) using HDR10. We expect the English soundtrack to be available in Dolby Atmos as well as Dolby TrueHD 7.1.
"Murder On The Orient Express" is list-priced at $34.99 (Blu-ray) and $39.99 (Ultra HD Blu-ray). See below for current pricing from Amazon.
Special Features:
Agatha Christie: An Intimate Portrait
Let's Talk About Hercule Poirot
Unusual Suspects (Part One, Two and Three)
The Art of Murder
All Aboard: Filming Murder on the Orient Express
Music of Murder
Deleted Scenes (with and without Commentary by Kenneth Branagh and Michael Green)

Alternate Opening
Newsreel (Extended)
Breakfast
Hotel Check-In
Arasta Bazaar (Extended)
Train Montage
Departure
Poirot Bedtime Rituals (with two alternates scenes)
Pierre Michel Interview
Luggage
Dreamscape

Director commentary by Kenneth Branagh and Michael Green
Theatrical Trailers
Gallery
[amazon_link asins='B0772SV5Q1,B077312MDN' template='ProductGrid' store='API-user-hdr' marketplace='US' link_id='469e302f-006c-11e8-a818-9f0fa321aec0′]