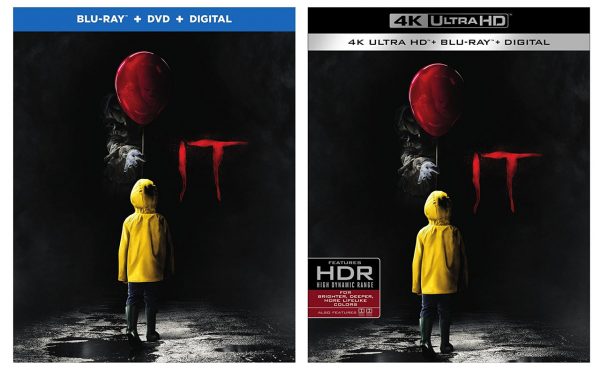 Warner Bros. will release the horror/thriller IT to Blu-ray and Ultra HD Blu-ray on Jan. 9, 2018. The film was directed by Andrés Muschietti and stars Bill Skarsgard, Jaeden Lieberher, and Finn Wolfhard.
On both Blu-ray editions IT is presented in 16×9 (2.4:1) widescreen aspect ratio, in either 1080p (Blu-ray) or 2160p (Ultra HD Blu-ray) video resolution. On 4k Blu-ray, the disc features improved color depth with HDR using the Dolby Vision specification.
The audio on both Blu-ray editions is offered in Dolby Atmos – TrueHD as well as DTS-HD Master Audio.
Bonus content includes deleted scenes and the featurettes Pennywise Lives!, The Losers' Club, and Author of Fear (Stephen King). Each Blu-ray combo edition also packages an extra disc (either DVD or Blu-ray) and a Digital Copy via Movies Anywhere.
IT on Blu-ray is list-priced at $35.99 while the 4k Blu-ray edition has an MSRP of $44.95. (See special Amazon pricing below.)
Special Features:
Pennywise Lives! – Discover how Bill Skarsgård prepared to portray the primordial creature known as Pennywise the Dancing Clown.
The Losers' Club – Get up close and personal with the teenage stars of IT as they bond together during the film's production.
Author of Fear – Stephen King reveals the roots of his best-selling novel, the nature of childhood fear, and how he created his most famous monster, Pennywise.
Deleted Scenes – Eleven deleted or extended scenes from the film.
[amazon_link asins='B076C3QNB3,B074ZMJZ6P' template='ProductGrid' store='API-user-hdr' marketplace='US' link_id='1430dc51-e5bf-11e7-b501-371c5856c559′]