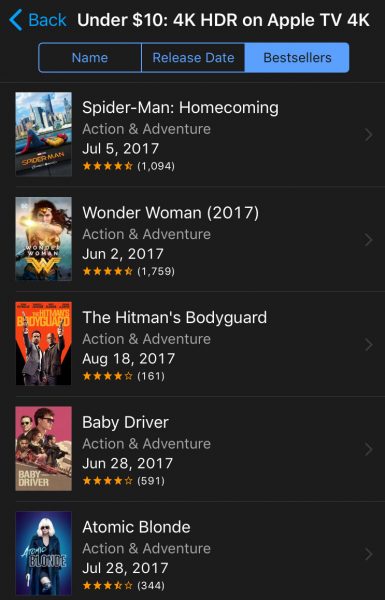 Looking for some movies to watch on your new Ultra HD TV? Right now Apple has got a great sale going on for digital movies formatted in 4k with HDR for under $10. This is the cheapest we've ever seen Apple's 4k titles since they offered Logan and T2 Trainspotting after the launch of Apple TV 4k.
Surprisingly, most of the movies offered in 4k for $9.99 are not what you might call bombs. You'll find blockbuster hits such as Wonder Woman, Spider-Man: Homecoming, Baby Driver, La La Land, The Hitmans Bodyguard, and Deadpool all for $9.99. And, there are some classics like Close Encounters of the Third Kind (1977), The Princess Bride (1987) and Heat (1995) on sale.
Heat is actually the only title we could find less than $9.99, selling for $7.99. That's a hard one to pass up.
To find the discounted movies go to iTunes on a PC, tablet or phone and look for the "Under $10: 4k HDR on Apple TV 4k" section with over 40 titles listed.
Apple shook the digital movie industry last September with the launch of Apple TV 4k, not only because of the long-awaited 5th-generation streamer but also because iTunes priced Digital 4k titles the same as Digital HD titles (typically $19.99). Before Apple TV 4k came along, Google Play, Vudu and other digital movie services sold Digital UHD titles for $29.99 a pop.