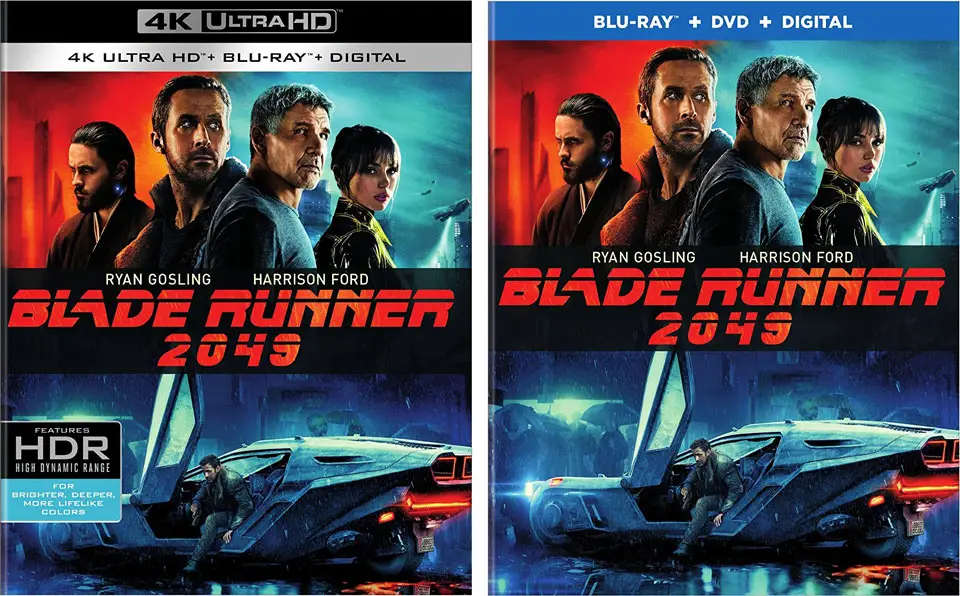 Warner Bros.' Blade Runner 2049 is available for pre-order and will release to Blu-ray, 4k Ultra HD Blu-ray, and DVD on Jan. 18, 2018. And, we now have details about special features and Blu-ray/4k Blu-ray specifications.
On both Blu-ray editions the film is presented in 16×9 (2.4:1) widescreen aspect ratio. The standard Blu-ray, of course, presents Blade Runner 2049 at 1080p video resolution while the Ultra HD Blu-ray edition features 2160p video with HDR color. The soundtrack on both Blu-rays is provided in Dolby Atmos and Dolby TrueHD.
Bonus content includes quite a few featurettes as well as the three '2049' Prologues that were released to YouTube leading up to the film. In both Blu-ray editions digital copies can be obtained using the Movies Anywhere platform.
Blade Runner 2049 follows the recent remastered 4k release of Blade Runner (1982) and can be ordered from Amazon for $24.99 (Blu-ray) or $29.99 (4k Blu-ray).
A marathon of movie watching at two hours and forty-four minutes, the film received high scores from critics and fans alike, including a 3.5/4 score from Roger Ebert and 88% rating on Rotten Tomatoes.
Blu-ray Special Features
Featurettes
Blade Runner 101 – The Replicant Evolution
Blade Runner 101 – Blade Runners
Blade Runner 101 – The Rise of Wallace Corp
Blade Runner 101 – Welcome to 2049
Blade Runner 101 – Jois
Blade Runner 101 – Within the Skies: Spinners, Pilotfish, Barracudas
Designing the World of Blade Runner 2049
To be Human: Casting Blade Runner 2049
Prologues:
2022: Black Out (Anime)
2036: Nexus Dawn
2048: Nowhere To Run