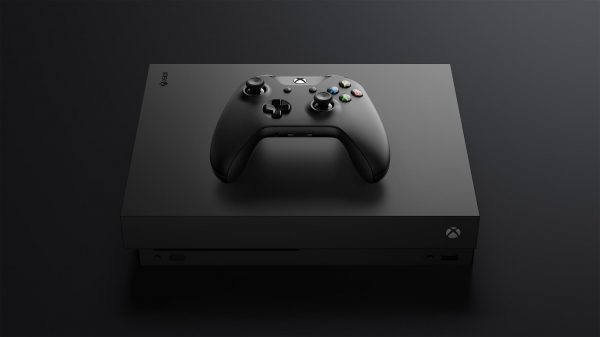 By the end of the Black Friday/Cyber Monday shopping extravaganza, millions of people will have purchased their first 4K television. A sizeable portion of those people is going to quickly realize that they don't own any media/devices that can actually take advantage of their new television's potential.
Luckily, those suddenly confused consumers have options. YouTube, for instance, offers quite a bit of 4K content for free. Netflix offers 4K streaming at a slightly higher price ($11.99 a month). Some television broadcasts are even in 4K.
However, many 4K television owners are going to need to also purchase some kind of device that is specifically designed to take advantage of existing and future 4K content. Fortunately, there are many, many devices out there designed to do just that.
Few of those devices, though, have as much to offer as the Xbox One X.
The Xbox One X is Microsoft's answer to the rapidly approaching future of 4K entertainment, and it costs $499. We apologize for that blunt transition, but any conversation about the Xbox One X that doesn't get to the console's price point as soon as possible is a waste of your time. Given that high-end 4K HDR streaming devices top out at around $200 (Apple TV 4K), that price point is going to be the Xbox One X's make or break quality for many consumers.
Also Read: The Xbox's Path to Victory Is Hard to Find
Of course, the Xbox One X is more than a streaming device. It is also capable of playing Ultra HD Blu-Rays at a resolution typically reserved for higher-end dedicated Ultra HD Blu-Ray machines. Given that Ultra HD Blu-Rays are the best way to experience 4K from a purely visual perspective – and that good Ultra HD players aren't cheap – that's quite the selling point.
Less impressive is the Xbox One X's status as a video game console.
In theory, the fact that the Xbox One X can play video games, streaming content, and Ultra HD Blu-Rays should automatically justify the $499 price point. The problem is that the Xbox One X's banner gaming features are all accompanied by an asterisk:
Play all the hit Xbox One games! * – *Xbox One exclusive games may not be as desirable or plentiful as PlayStation 4 and Nintendo Switch games.
Your favorite Xbox One games in full 4K! * – *Not all Xbox One games have been upgraded to support 4K HDR. Those that have been upgraded may take up over 100 GB of storage space. 
The only true 4K console! * – *True 4K difference may not be noticeable to many users when playing current video games. 
It would be easier to overlook these flaws if there wasn't so much competition in the video game hardware industry. As it stands, the PlayStation 4 Pro is cheaper, sports an arguably more impressive software library, and supports PlayStation VR. The Xbox One S also supports 4K streaming, is significantly cheaper, and usually comes with a couple of free games.
The Xbox One X should be able to separate itself from the pack by virtue of its 4K HDR abilities and strong software lineup. Neither of qualities is beyond the shadow of doubt. Until that is no longer the case, it's going to remain a video game console best suited for those who aren't worried about spending $499 if it gives them peace of mind that they have purchased the best overall 4K media player on the market.