This Tuesday, Nov. 7th brings the largest number of new 4k Blu-ray releases in November with eight new titles we know about hitting shelves. Most notable are the first four Harry Potter films that have been remastered for release on 4k, as well as an 8-Film Collection from Warner Home Video with Blu-ray and Digital copies.
HBO's Original Series Westworld is available in a 6-disc Limited Edition packaged in a special metal case with Blu-ray and digital copies of the episodes. The animated film Cars 3 from Disney is now on Blu-ray and 4k Blu-ray, however, Amazon has been having trouble stocking the movie so look to Best Buy and other retailers for this title. Also on 4k Blu-ray, but sold exclusively at Best Buy, A Few Good Men (1992) celebrates the 25th anniversary of the film's theatrical release.
New 4k Ultra HD Blu-ray Releases, Nov. 7 2017
Cars 3
As we mentioned above Amazon is having trouble stocking this title in either Blu-ray, 4k Blu-ray and DVD. As of this posting they did get in some units of the Ultra HD Blu-ray edition, but the Blu-ray and DVD editions are unavailable. Best Buy, Target and Walmart all have copies of the film in stock, and exclusive retailer editions are available from all three stores. More details
---
A Few Good Men
Best Buy has released an exclusive 4k Ultra HD Blu-ray edition of 4-time Oscar-nominated film A Few Good Men. The new release presents the film in 4k (2160p) resolution enhanced with HDR (High Dynamic Range) color and English soundtrack in Dolby Atmos and Dolby TrueHD 7.1. Bonus features include audio commentary, a documentary " Code of Conduct," "From Stage to Screen with Aaron Sorkin and Rob Reiner" and more. Can you "Handle the Truth?" More details
---

Harry Potter (the first four films)
The first Harry Potter films are now available on 4k Blu-ray, including Harry Potter and the Sorcerer's Stone (2001), Harry Potter and the Chamber of Secrets (2002), Harry Potter and the Prisoner of Azkaban (2004), and Harry Potter and the Goblet of Fire (2005). The films are presented in 2160p resolution with High Dynamic Range (HDR10), and, the soundtracks have been formatted in DTS:X backed up by DTS-HD Master Audio 7.1 for systems that don't support DTS:X. More details
---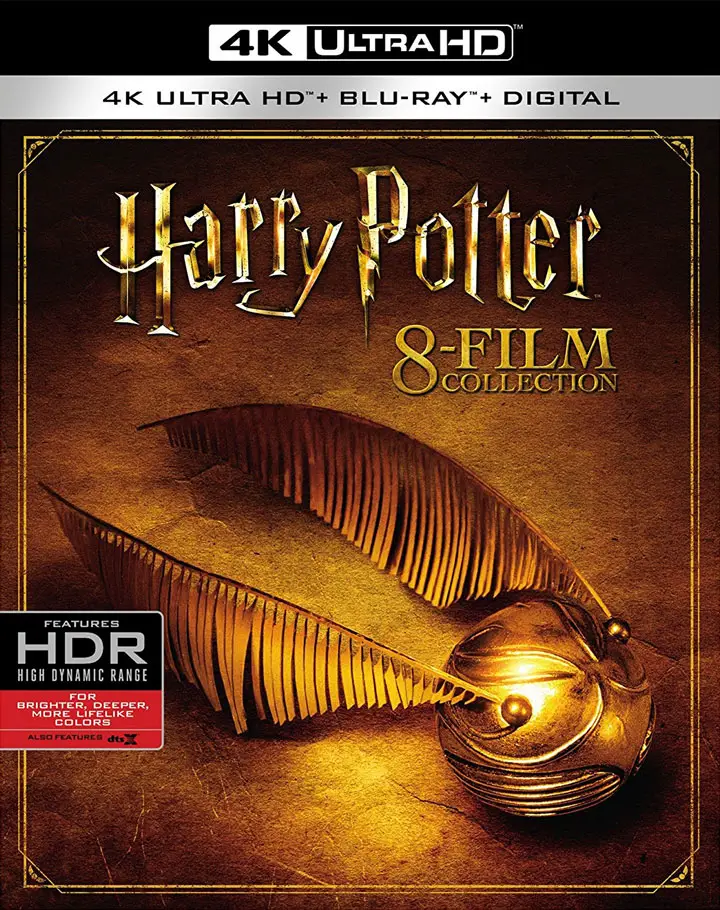 Harry Potter 8-Film Collection
The entire Harry Potter film series is now available in a 4k Ultra HD Blu-ray in an 8-movie collection from Warner Home Video. With a run-time of over 1,500 minutes (which includes two extended edition movies on Blu-ray), the 16-disc edition carries a suggested retail price of $178.99 and presents each Harry Potter film in 4k 2160p resolution with HDR10 and  DTS:X audio (backed by DTS-HD Master Audio 7.1). More details
---
Westworld
HBO's Westworld on 4k Blu-ray features High Dynamic Range (HDR) specifications that improve the color depth, contrast and detail of the 2160p video. And, the English audio is available in Dolby Atmos and Dolby TrueHD 7.1. Most cable and satellite TV services don't come close to broadcasting in 2160p, so Westworld in 4k will surely be a whole new experience. More details
Take a look at other Ultra HD Blu-ray releases coming in November.