Any Costco shopper worth his/her 10 lb. sack of salt knows that the warehouse chain is rarely a must-visit destination when it comes to Black Friday deals. In fact, as other big-box retailers have embraced Turkey Day shop-a-thons, Costco has seemingly made more news for refusing to open up on Thanksgiving rather than any over-the-top door busters.
But still, as we approach Black Friday 2017, there are a few tech and home theater-related specials worth highlighting. Aside from a slew of laptops, Costco's list of Black Friday weekend deals is pretty slim. But if you're a member, these are the 5 best you should consider during the Nov. 24 – 27 sales period.
1.  Vizio 80" 4K HDR XLED TV – $2,499 (Save $500, Online only, )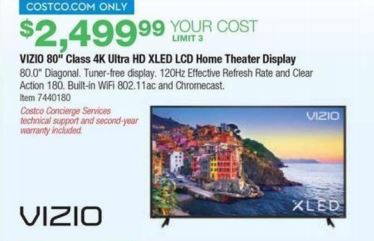 If you're looking to get 80″ of screen in your living room, it's tough to not spend more than $3,000 in the process. CNET calls the E series a "big, affordable TV with a focus on picture quality," giving it 3.5 out of 5 stars, making this a very intriguing deal for people who care more about screen size than bleeding edge picture specs. This is $500 off Costco's current price for this model (#E80-E3), and note that this deal will only available online for the three sale days.
2. Google Home Voice-Activated Speaker – $179 for two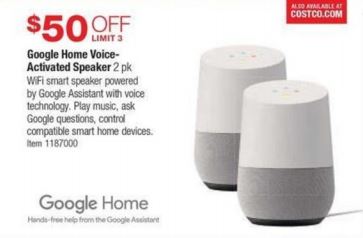 If you're thinking to choose Google over Amazon in the battle of smart speakers, Costco's ready to save you $50 if you splurge for two of 'em.
3. Sony PlayStation 4 – $189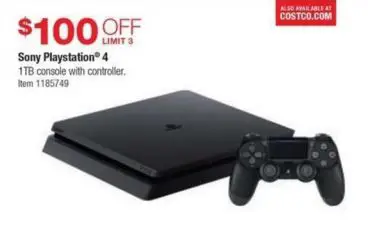 If you've been waiting for the Sony's console to dip below $200, this is your holiday season. This is the Slim model with the 1 TB hard drive, and it represents a $100 over the typical Costco price.
4. Xbox One S Bundle (includes console, two controllers, and 3-month Xbox game pass) – $219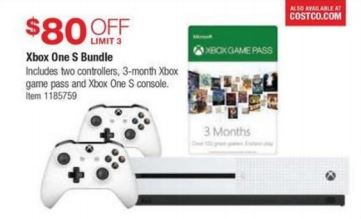 While the aforementioned PS4 deal is bare bones, this Xbox One S bundle for $30 more gets you an extra controller and a 3-month sample of Xbox Game Pass, a kind of Netflix-for-games service Microsoft recently began offering. The bundle yields a total savings of $80.
5. HP 32" Omen QHD Gaming Monitor – $249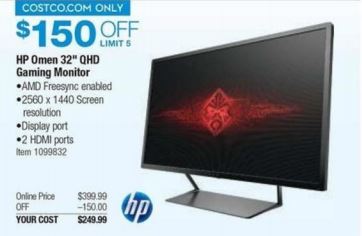 For the hardcore PC gamer, this is a pretty tempting offer. 72 Amazon reviewers have given it (Model #W9S97AA#ABA) an average of 4 out of 5 stars, and it's a whopping $150 off the standard price. Note: This is another deal only available at Costco.com.
Costco is also touting another, much longer list of deals that start running Nov. 9 and run through the Black Friday deals on the 27th. Click here for that ad.