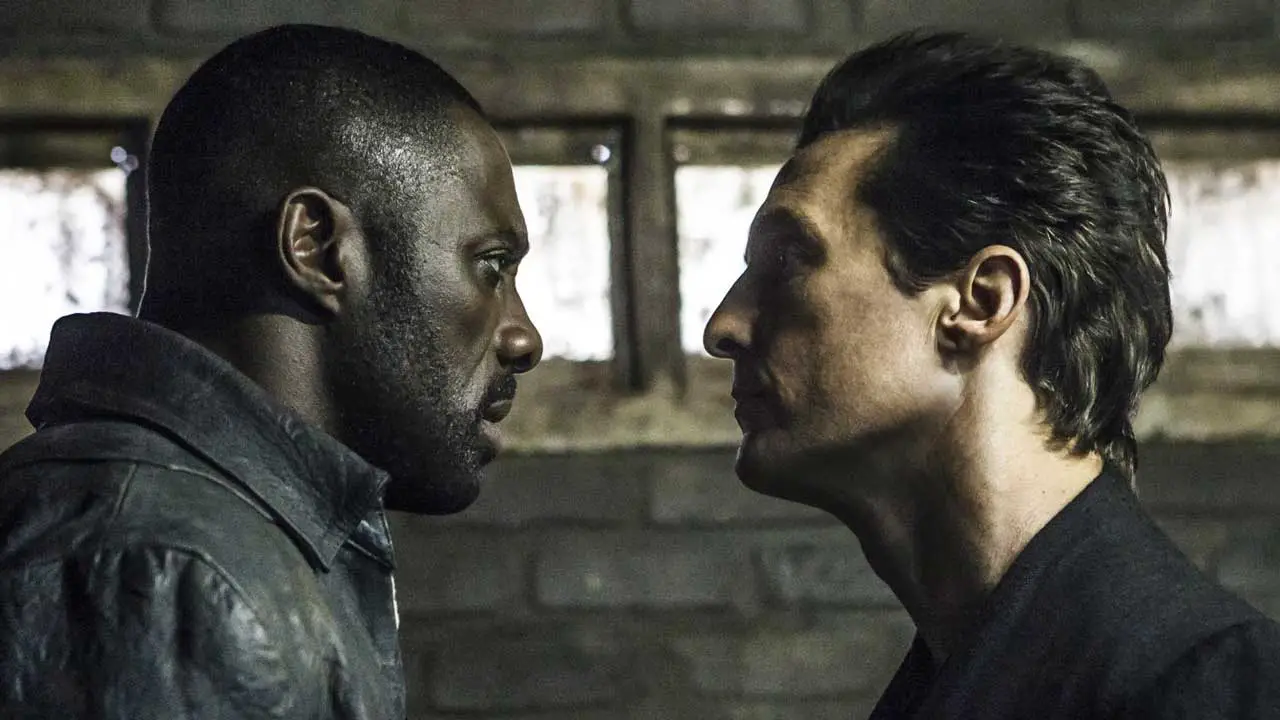 Sony Pictures' The Dark Tower starring Idris Elba and Matthew McConaughey has been released early to digital formats, two weeks ahead of the Blu-ray, 4k Blu-ray, and DVD editions on Oct. 31st. The film is based on the Stephen King novels of the same name, and pales in comparison, but nevertheless follows eleven-year-old Jake Chambers and the plight of the last Gunslinger Roland Deschain who is forever protecting the dark tower from the Man in Black.
Availability
Popular services where you can buy The Dark Tower in digital formats include Amazon Video, Apple iTunes, Google Play, FandangoNow, PlayStation Store, Microsoft Video, Verizon FiOS On Demand, and Vudu. The film is also available in Digital UHD (4k) from Apple and Google Play.
Bonus Material
Extras offered with the digital purchase of The Dark Tower may include deleted scenes, blooper reel, and featurettes "The World Has Moved On…," "Stephen King: Inspirations," "A Look Through the Keyhole," "The Man in Black," and "The Gunslinger in Action," which may vary slightly depending on vendor. Sony Entertainment has the exclusive extra "This is Jake," and Vudu has the bonus featurette "The Last Time Around." Many of those extras are also included on the Blu-ray release late October.
4k UHD
Apple and Google Play both have The Dark Tower available in Digital UHD (4k), which includes HDR (Dolby Vision) specifications that extend the color range on devices that support the format such as Apple TV 4k, iPhone 8 and iPhone X, as well as supporting Android TVs, phones and tablets.
Price
The Dark Tower in Digital HD or SD from most services is $14,99, with the exception of iTunes which has it priced $19.99 for Digital HD ($14.99 SD). That's because with iTunes the HD purchase includes 4k/HDR for the same price (Read: Apple TV 4k is a Game Changer). Vudu is also offering their Disc & Digital deal where you can buy the Digital HDX copy now and get the Blu-ray Disc combo upon release date for $24.96.
The Dark Tower Digital SD/HD/4k Price List*
Amazon Video – $14.99 (SD) $14.99 (HD)
Apple iTunes –$14.99 (SD) $19.99 (HD/4k) + iTunes Extras
FandangoNow –$14.99 (SD) $14.99 (HD)
Google Play –$14.99 (HD) $29.99 (UHD)
Microsoft Video –$14.99 (SD) $14.99 (HD) + 1 Extra
Sony Entertainment Network –$14.99 (SD) $14.99 (HD) + Bonus & Exclusive
Verizon FiOS On Demand –$14.99 (SD) $14.99 (HD)
Vudu (Walmart) –$14.99 (SD) $14.99 (HD) + Extras
*Prices at time of article publication