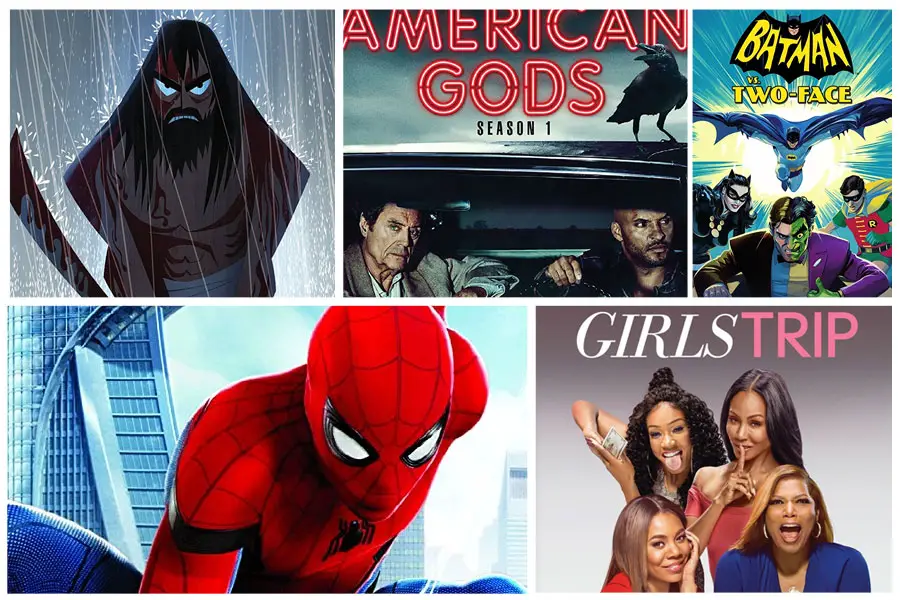 This week's biggest title in home media is Spider-Man: Homecoming from Sony Pictures Home Entertainment. The film is available in several different editions including Blu-ray and Ultra HD Blu-ray, as well as some limited editions, exclusive retailer editions, and limited edition collections. Other mentionable movies now on Blu-ray include Girl's Trip (2017), A Very Sordid Wedding (2017), and Criterion Collection's releases of Barry Lyndon (1975) and Twin Peaks: Fire Walk with Me (1992).
From television, Season 5 of Samurai Jack and Samurai Jack: The Complete Series Box Set are now on Blu-ray, as well as Season 1 of American Gods and BBC's Masterpiece: The Collection.
Oct. 17 is also chock-full of animated and anime titles. We shouldn't forget to mention this year's animated feature Batman vs. Two-Face with voiceovers from iconic actors Adam West, Burt Ward, and William Shatner. In anime releases Spirited Away (2001), Howl's Moving Castle (2004) and Kiki's Delivery Service (1989) are among several titles now on Blu-ray.
Don't forget to check out our overview of new 4k Ultra HD Blu-ray releases this week.
New on Blu-ray, Oct. 17, 2017
Ultra HD Blu-ray
Apollo 13
Spider-Man: Homecoming (also with exclusive mask case)
Spider-Man Limited Edition Collection
Amazing Spider-Man Limited Edition Collection
Spider-Man Legacy Collection (Best Buy)
Serenity
Dr. Seuss' How the Grinch Stole Christmas
Blu-ray
TV Series
Samurai Jack: Season 5
Samurai Jack: The Complete Series Box Set
American Gods: Season 1
Garo TV Series Collection 1
America: Promised Land
Masterpiece: The Collection
Movies
Spider-Man: Homecoming (2017)
Spider-Man: The Motion Picture Trilogy
Girls Trip (2017)
Barry Lyndon (1975) – Criterion
Twin Peaks: Fire Walk with Me (1992) – Criterion
Rawhead Rex (1986)
A Very Sordid Wedding (2017)
Three O'Clock High (1997) – Collector's Edition
Shot Caller (2017)
Wes Craven's Summer of Fear (1978)
Rolling Vengeance (1987)
Vice Versa (1988)
God Of War (2017)
Red Christmas (2016)
Alfred Hitchcock: The Ultimate Collection
La Chinoise (1967)
Justice (2017)
Mary Reilly (1996)
Titanic (1942), German – Kino
Anime / Animated
Batman vs. Two-Face (2017)
Spirited Away (2001)
Kiki's Delivery Service (1989)
Howl's Moving Castle (2004)
Princess Mononoke (1997)
My Neighbor Totoro (1988)
Love Chunibyo & Other Delusions Rikka Version (2013)
Ponyo (2008)
[amazon_link asins='B073RW6NGL,B0735SXKXD,B074XTYMT3,B074XJ48WV,B0741W7LZ5,B073XYG9HJ,B0746XNZH3′ template='ProductCarousel' store='API-user-hdr' marketplace='US' link_id='b8332fd6-b2e0-11e7-83af-c10e5fca3472′]