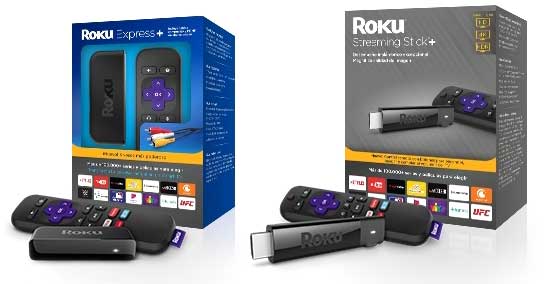 Roku has launched its streaming platform in several South American countries including Argentina, Chile, Columbia, and Peru, as well as Central American countries Costa Rica, El Salavador, Guatemala, Honduras, Nicaragua, and Panama.
Two of the five Roku streaming media players introduced earlier this month, including the Roku Express+ and Roku Streaming Stick+, will be available soon in those Latin American countries. The Roku Express+ (model 3910) supports HD streaming, while the Roku Streaming Stick+ (model 3810) supports 4k, HDR, and 60 frames-per-second video.
"Streaming is gaining popularity quickly around the world, and in particular, in Latin America because it allows consumers to watch TV on their terms. To meet the demand we are launching our affordable and easy to use streaming players in various countries in Latin America," said Chas Smith, general manager of Roku TVs and players.
Roku has also invited content publishers to develop streaming channels for the Roku Channel Store in Latin America. More information can be found at https://developer.roku.com/index.
The international launch follows the company's initial public offering in September, which opened at $14 per share.
In November, Roku says their new Express media player will be made available in Canada.