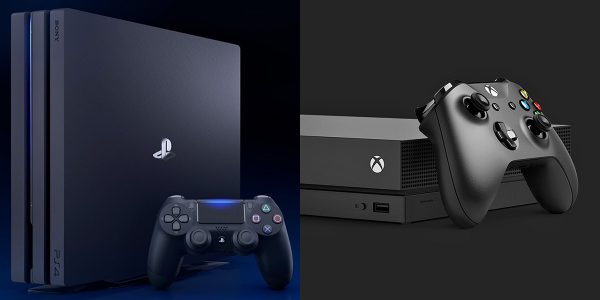 They say the old console wars are over and aren't coming back.
A combination of fewer exclusives, rising development costs, and largely similar console designs has certainly removed some of the flash and flair from the console wars. We're a long way removed from the days of Nintendo and Sega attacking each other at every opportunity.
Still, there is a war brewing this holiday season between consoles that is intriguing in its own way.
The PlayStation 4 Pro and Xbox One X are similar in many ways. Both are upgrades of an existing console, both are billed as 4K consoles, and both come with a premium price point. However, the consoles distinguish themselves in certain ways.
The PlayStation 4 Pro has been on the market since November 10, 2016. We don't know exactly how many PS4 Pros have been sold, but a report earlier this year from Sony suggested that 1 in 5 PS4s sold since November were Pro models. Only Sony can tell you if that number meets their expectations, but they seem to be fairly impressive for what is, essentially, a half-measure upgrade over the PS4.
Microsoft's Xbox One X is different. It's not an entirely new console, but it represents a pretty significant upgrade over the Xbox One and Xbox One S' hardware. That includes enhanced 4K support and 4K Ultra HD Blu-Ray support. It's certainly the most powerful console on the market, or at least it will be when the console releases on November 7th.
Trying to determine which console will be more popular this holiday season – and thereon – is pretty tricky. On the surface, it appears that the PlayStation 4 Pro has several significant advantages. The PlayStation 4 is outselling the Xbox One by roughly a 2:1 ratio, the PlayStation 4's lineup of games in 2017 has simply been outstanding, and the PlayStation 4 Pro costs less ($100 less) which potentially makes it more appealing to the average consumer.
That's the thing, though. These consoles aren't really designed for the average consumer. They're designed for 4K media nuts who need the most versatile media players on the market, hardcore console fans who want to play their games at peak performance levels, and technophiles who simply need the best devices on the market.
When you look at it from that perspective, the war between these consoles becomes much more interesting.
Sony's didn't really go "all-in" with the PlayStation 4 Pro. It's not quite as powerful or versatile as it could be, but it's also less expensive. By comparison, Microsoft's Xbox One X is a console specifically designed for a hardcore crowd. It's designed to make a smaller demographic very happy. It's also the new kid on the block and will likely benefit from some holiday hype.
That being the case, we're at an interesting point where victory isn't easily defined by who has the highest sales figures. It's incredibly likely that the PlayStation 4 Pro will ultimately outsell the Xbox One X because it's a more practical purchase for many people. It's also been available for longer.
But victory for Microsoft may not be determined by a whether they use a red pen or a black to write the One X's revenue. Victory for Microsoft may be determined by how satisfied Xbox One X owners are.