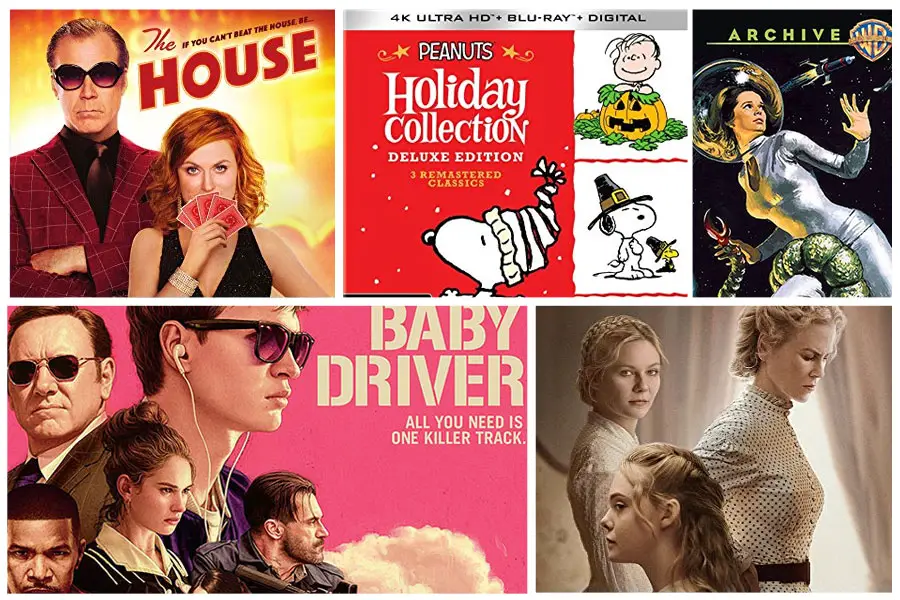 Want to know what's new on Blu-ray this week? There are over 70 titles listed for Tuesday, Oct. 10th, but many of those are re-issued movies on BD such as Babel, American Gigolo, and Dreamgirls. However, there are plenty of titles we've never seen before on Blu-ray Disc. Let's take a quick look at our top recommendations followed by an extended list of what's new.
Out of the newer movie titles available on home media you might check out the action/thriller Baby Driver, Sofia Coppola's The Beguiled based on the novel of the same name, and Warner Bros.' comedy The House starring Will Farrell & Amy Poehler.
From TV, this week you can take home The Leftovers: The Complete Third Season, The Last Kingdom: Season One, and Murdoch Mysteries: Once Upon a Murdoch Christmas on Blu-ray Disc.
Out of the older, archived titles this week we suggest the 70th Anniversary Edition of Miracle on 34th Street (1947), classic Japanese horror film The Green Slime (1968), and Criterion Collection's remastered It's a Mad, Mad, Mad, Mad World (1963).
On Ultra HD Blu-ray this week there are only two new titles: Baby Driver and the Peanuts Holiday Collection with three remastered classics in 4k (with HDR!).
New on Blu-ray, Oct. 10, 2017
TV Shows
The Leftovers: The Complete Third Season
The Last Kingdom: Season One
Murdoch Mysteries: Once Upon a Murdoch Christmas
Persona 4 the Animation: Complete Collection
Ip Man: Season 1
Movies
Baby Driver – Blu-ray, 4k Blu-ray (2017)
The Beguiled (2017)
The House (2017)
Wish Upon (2017)
Open Water 3 Cage Dive (2017)
Peanuts Holiday Collection (4k Ultra HD Blu-ray)
Maudie (2016)
The Lure (2015)
The Poughkeepsie Tapes (2007)
Dreamgirls (2006)
Babel (2006)
Amores Perros (2000)
For Love of the Game (1999)
Bowfinger (1999)
EDtv (1999)
Kiss the Girls (1997)
Black Rain (1989)
BASEketball (1998)
Problem Child (1990)
Internal Affairs (1990)
Planes, Trains & Automobiles (1987)
Dudes – Special Edition (1987)
Friday the 13th – The Final Chapter (1984)
The Flamingo Kid (1984)
American Gigolo (1980)
Avanti (1972)
Roy Colt and Winchester Jack (1970)
Take the Money and Run (1969)
Le Gai Savoir (1969)
The Green Slime (1968)
Kill Baby Kill (1966)
It's a Mad, Mad, Mad, Mad World (1963) – Criterion Collection
Othello (1951) – Criterion Collection
T-Men – Special Edition (1947)
Miracle On 34th St (1947) – 70th Anniversary
The Sea Wolf (1941) – Warner Archive
[amazon_link asins='B073XGT54S,B073DZJGP4,B073BXVX2J,B075TDXYMC,B075TGS77M,B0741974SL,B073LYMWKF' template='ProductCarousel' store='API-user-hdr' marketplace='US' link_id='0d6d658c-add2-11e7-a763-e5a2e4f5c098′]