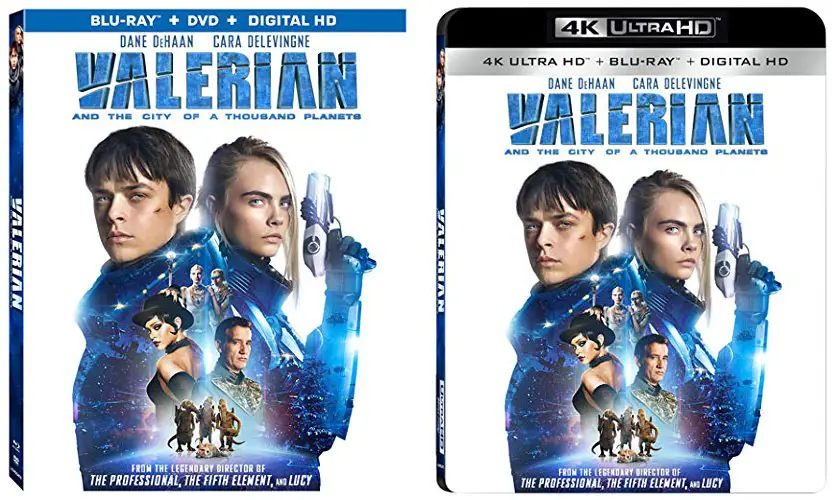 Valerian is now available to pre-order on Blu-ray Disc, 4k Ultra HD Blu-ray, and DVD with a release date of Nov. 21, 2017. The digital release will likely be available two weeks earlier, although we're still waiting for official date.
Valerian, or Valerian and the City of a Thousand Planets as it's formerly registered, is based on the comic book series "Valerian and Laureline" by Pierre Christin and Jean-Claude Mézières. The movie was released to theaters in the US on July 21, earning $40M at the domestic box office but $175M worldwide.
On 4k Blu-ray, Valerian is presented in 2160p with High Dynamic Range (HDR) enhancements from Dolby Vision. The soundtrack as well is cutting edge with audio provided in Dolby Atmos and Dolby TrueHD 7.1, allowing multi-channel immersive sound effects for home theaters.
Bonus features on the Blu-ray editions of Valerian include a 5-part documentary, featurette "Enhancement Pods," and "Art of Valerian" photo gallery.
The 2-disc Blu-ray edition of Valerian from Lionsgate is list-priced at $34.99, while the 4k edition has a suggested retail price of $36.75 (yeah, we noticed it's lower than the Blu-ray MSRP — check current prices in the pre-order grid from Amazon below).
Valerian Special Features:
"Citizens of Imagination: Creating the Universe of Valerian" Multi-Part Documentary

Paper, Ink, Flesh, Blood: Origins and Characters
To Alpha and Beyond: Production and Stunts
Denizens of the Galaxy: Humans and Aliens
The Final Element: Visual Effects
Wrap Up

Enhancement Pods
"The Art of Valerian" Photo Gallery
[amazon_link asins='B075FMD4HW,B075FMD4HZ' template='ProductGrid' store='API-user-hdr' marketplace='US' link_id='47dd3982-a23b-11e7-b178-1dc62d73026e']