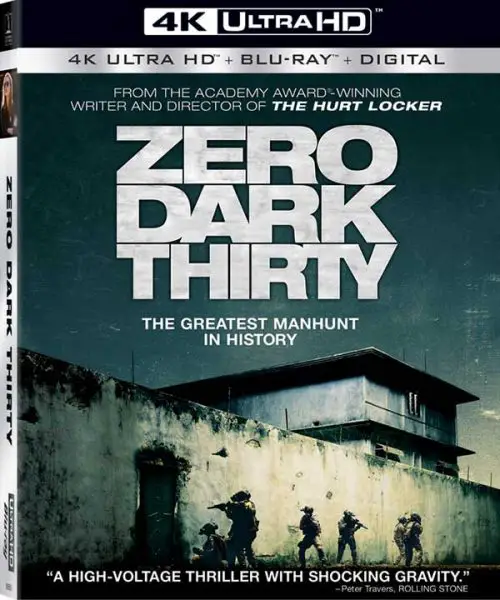 Best Buy will release an exclusive 4k Blu-ray disc edition of the Oscar-winning film Zero Dark Thirty on Tuesday, September 12. The edition will initially be a Best Buy exclusive, not available from any other retailers in Ultra HD.
The exclusive title from Sony Pictures circles back to when Best Buy released a special limited Steelbook edition of the film after its theatrical premiere in 2012. Zero Dark Thirty was nominated for a total of five Oscars including Best Motion Picture of the Year.
On Ultra HD Blu-ray, English audio is featured in the immersive Dolby Atmos format as well as Dolby TrueHD 7.1, The video is presented in 2160p at 1.85:1 aspect ratio with High Dynamic Range (HDR) color for 4k HDR TVs.
Extra bonus material on Zero Dark Thirty 4k Blu-ray includes previously-released featurettes "The Compound," "Geared Up," "Targeting Jessica Chastain," and "No Small Feat: Making Zero Dark Thirty." The 2-disc edition also includes a Blu-ray and Digital Copy that can be redeemed with UltraViolet.
Zero Dark Thirty on Ultra HD Blu-ray is list-priced $19.99 at Best Buy.
Special Features
The Compound
Geared Up
Targeting Jessica Chastain
No Small Feat: Making Zero Dark Thirty
[amazon_link asins='B077ZH9PTP' template='ProductGrid' store='API-user-hdr' marketplace='US' link_id='7a139a26-fa1d-11e7-aaf8-8fcabbe65481′]
Source: HiDefDigest