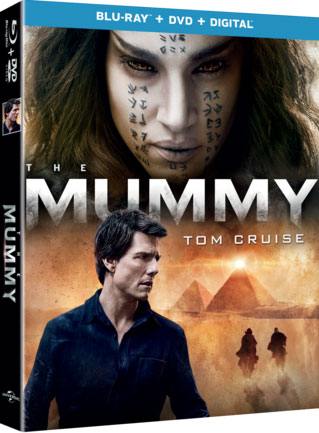 Universal has announced the home media release dates for The Mummy starring Tom Cruise and Sofia Boutella. The film will first release to Digital on August 22, 2017, followed by 4K Ultra HD, Blu-ray, DVD, and On Demand on September 12, 2017.
UPHE's Blu-ray combo packs of The Mummy will include two discs as well as Digital HD copy. On both Blu-ray and 4k Blu-ray, The Mummy features an English Dolby Atmos soundtrack. French and Spanish soundtracks are available in DTS Digital Surround 5.1.
On Ultra HD Blu-ray, The Mummy has enhanced color depth with HDR (High Dynamic Range) on Ultra HD Blu-ray players and TVs that support the format.
As far as extras, The Mummy on Blu-ray includes over an hour of special bonus content such as never-before-scene footage, deleted and extended scenes, an Ahmanet Reborn Animated Graphic Novel, several featurettes, and more.
Total run time of the theatrical release of The Mummy is one hour and fifty minutes. The film is rated PG-13 by the MPAA.
Special Features
Deleted and Extended Scenes
Cruise & Kurtzman: A Conversation
Rooted in Reality
Life in Zero-G: Creating the Plane Crash
Meet Ahmanet
Cruise in Action
Becoming Jekyll and Hyde
Choreographed Chaos
Nick Morton: In Search of a Soul
Ahmanet Reborn Animated Graphic Novel
Feature Commentary with Director/Producer Alex Kurtzman and Cast Members Sofia Boutella, Annabelle Wallis, and Jake Johnson
Synopsis
Tom Cruise stars in this spectacular version of the legend that has fascinated cultures all over the world since the dawn of civilization: The Mummy. Thought safely entombed deep beneath the desert, an ancient princess (Sofia Boutella) whose destiny was unjustly taken from her is awakened in our current day. Her malevolence has grown over millennia and with it come terrors that defy human comprehension. From the sands of the Middle East through modern day London, The Mummy balances wonder, thrills, and imagination.
Get more Blu-ray Disc news and 4k Blu-ray news on our dedicated channels.
[amazon_link asins='B072JLDDMT,B0725X1SL7′ template='ProductGrid' store='API-user-hdr' marketplace='US' link_id='e32667d6-7ba3-11e7-88df-67515f111b14′]