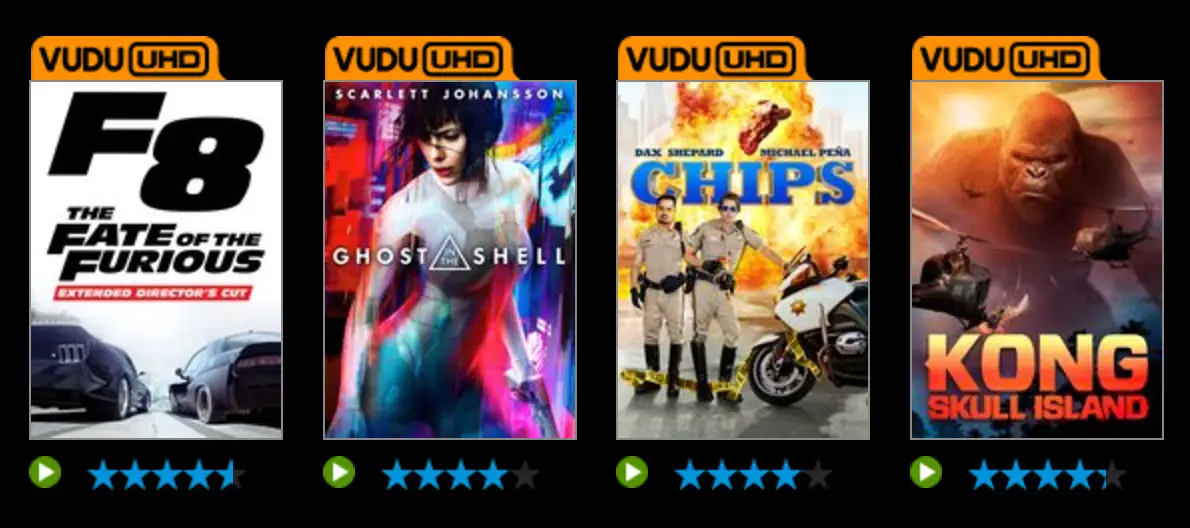 Sorry Amazon. Sorry iTunes. Vudu is the place to get 4k digital titles. Yeah, Google Play also has a wide selection of UHD movies, but Vudu is pushing the latest formats with Dolby Atmos, Dolby Vision, and sometimes a combination of both.
While you have to have the right set up to get HDR content, and more specifically Dolby Vision HDR on your TV, it's definitely worth the effort. Dolby Vision pushes the color depth of images to 12-bits, more than HDR10 with 10-bits and certainly much more than Blu-ray at 8-bits. What's more, the Dolby Atmos audio format brings immersive sound to supporting audio systems.
Not all of Vudu's 4k titles feature the Dolby combo; as you'll see below if Atmos is not available Dolby Digital Plus is often the backup.
The only gripe we have with Vudu is the cost of Digital UHD titles, most of which sell for $29.99 a piece. If a Digital HD (1080p) movie sells for $14.99 or $19.99, we would hope the next-gen format would be around $20 – $24.99 a piece.
Regardless, here are the titles, video/audio specs, and prices for Vudu's latest 4k additions:
The Fate of the Furious (Extended Director's Cut) – Dolby Vision, Dolby Digital Plus – $29.99
Ghost in the Shell – Dolby Vision, Dolby Atmos – $29.99
CHiPs – Dolby Vision, Dolby Digital Plus – $29.99
Kong: Skull Island – Dolby Vision, Dolby Atmos – $29.99
Vudu's list of compatible devices with UHD is somewhat limited, but support has been extended to include the newest media players from Roku including Premiere, Premiere +, and Ultra, as well as Chromecast Ultra that should be getting a firmware update to support Dolby Vision sometime soon.
Here's a list of compatible devices with Vudu's UHD format, and here's a list of Digital UHD titles available on Vudu.