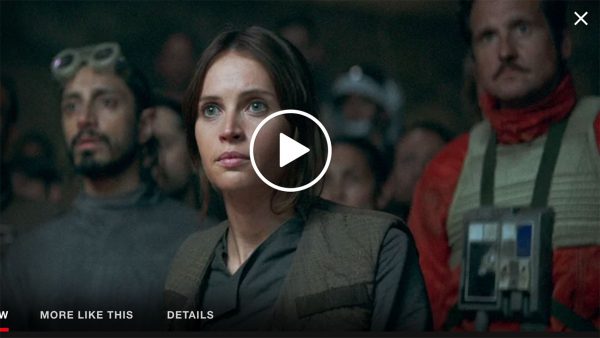 As promised, Rogue One: A Star Wars Story premiered on Netflix at midnight on Tuesday, July 18th. An odd day to release a feature film, 'Rogue One' is the first of the Star Wars franchise films to stream on Netflix, after an exclusive deal with Disney was announced a year ago. That agreement also includes Disney, Marvel, and Pixar films.
The movie is available in video resolution up to 1080p (Star Wars in 4k still seems so "far, far away."), with audio provided in Dolby Digital 5.1 surround sound. It can be streamed (not downloaded) on multiple devices including TVs, PCs, tablets and smartphones.
Netflix has yet to add 'Rogue One' to the Recent Arrivals list, but, searching for the full title "Rogue One: A Star Wars Story" or more simply "Rogue" should display it in the results.
Other movie titles releasing in July on Netflix include six-time Oscar-nominated drama Lion (July 9), the new Netflix Original To the Bone (July 14) starring Keanu Reeves, season two of Last Chance U (July 21), and the new Netflix Original The Incredible Jessica James (July 28) about an aspiring playwright in New York.
Rogue One: A Star Wars Story made over $1B worldwide ($530M domestic), while Star Wars: The Force Awakens, the first of the sequel trilogy, made twice as much worldwide at $2B ($937M domestic).
The film is also available in Digital HD from a variety of services, as well as on Blu-ray, 3D Blu-ray and DVD.