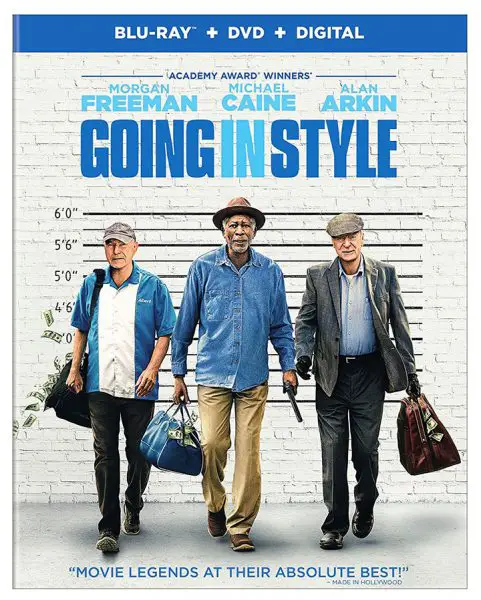 Warner Bros.' Going in Style is one comedy that's hard not to enjoy. And, while the film didn't kill it at the box office, it's one of those movies that's great to have in your disc collection.
Based on the 1979 story by Edward Cannon (and film starring George Burns), Going in Style (2017) features an all-star cast led by Morgan Freeman, Alan Arkin, and Michael Caine. Having had their pensions taken from them, the three main characters decide to rob the bank they feel robbed them of their retirement.
Going in Style will release on Blu-ray Disc this coming August 1st, 2017. The 2-disc combo edition from Warner Bros. includes a DVD and Digital HD copy redeemable with UltraViolet partners (unfortunately not with iTunes). Bonus material includes commentary with director Zack Braff and deleted scenes.
On Blu-ray Disc, the film is presented in 16×9 (2.4:1) widescreen aspect ratio with video at 1080p resolution. Audio is provided in DTS-HD Master Audio and Dolby Digital, with subtitles in English, French and Spanish.
The two-disc Going in Style Blu-ray combo carries an MSRP of $35.99, with pre-orders available for $22.99 at Amazon.
Get more Blu-ray Disc and Ultra HD Blu-ray news in our dedicated categories.
[amazon_link asins='B06Y17YLC7,B071ZN6N4Y' template='ProductGrid' store='API-user-hdr' marketplace='US' link_id='4911a9cc-76d7-11e7-8154-650b6eaec804′]