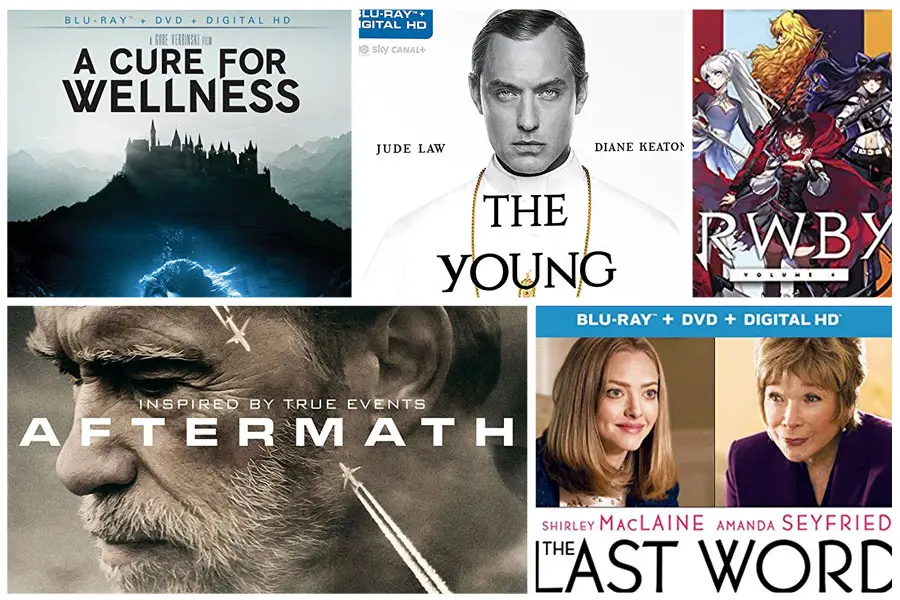 It's the first week in June for Blu-ray releases, with a quite a few previously-available titles getting reissued to 4k Ultra HD Blu-ray. Here are our highlights followed by a more extensive list below.
A Cure For Wellness from 20th Century Fox and The Last Word starring Shirley MacLaine and Amanda Seyfried are available in 2-disc combos with Blu-ray, DVD and Digital HD copies. Aftermath starring Arnold Schwarzenegger has been released to a Blu-ray combo with Digital HD copy to redeem. Juice (1992) starring Tupac Shakur is celebrating its 25th Anniversary with a Blu-ray edition from Paramount Home Media.
Other mentionable Blu-ray releases include The Assignment starring Michelle Rodriguez and Sigourney Weaver, from the creators of Red vs. Blue comes RWBY: Volume 4, The Ballad of Cable Hogue (1970) from Warner Archive, the classic Japanese war drama Ugetsu Monogatari (1953) from Criterion Collection, the animated feature 1492: Conquest of Paradise (1992), and Voice from the Stone starring Games of Thrones' Emilia Clarke.
In television, Doctor Who: Series 10, Part 1, Sound of the Sky (12 episodes), and HBO's The Young Pope starring Jude Law and Diane Keaton are all now available on Blu-ray Disc.
On Ultra HD Blu-ray this week we have Ex Machina, Dredd, Snitch, all three Despicable Me films, and The Bourne Ultimate Collection now available containing all five existing Bourne movies.
Here's an extended list of new releases for June 6, 2017.
Ultra HD Blu-ray
Ex Machina
Dredd
Despicable Me, Despicable Me 2, Despicable Me 3
Snitch
The Bourne Ultimate Collection
Blu-ray Disc
Movies
The Last Word
A Cure For Wellness
Aftermath
Juice
The Assignment
Mobile Suit Gundam Movie Trilogy
The Ballad of Cable Hogue
Ugetsu Monogatari (1954)
1492: Conquest of Paradise (1992)
Mobile Suit Gundam Movie Trilogy
Fahrenheit 451 (1966)
Journey to the West: The Demons Strike Back
Voice from the Stone
Where The Buffalo Roam (1980)
Major Payne (1995)
Kill 'em All
ZaZa (1923)
Let Me Make You a Martyr
I Am Dragon
The Axe Murders Of Villisca
The Ticket
Sky on Fire
Enter The Warriors Gate
The Man in the Glass Booth (1975)
Television/Series
Doctor Who: Series 10, Part 1
Van Helsing: Season One
The Young Pope
Sound of the Sky