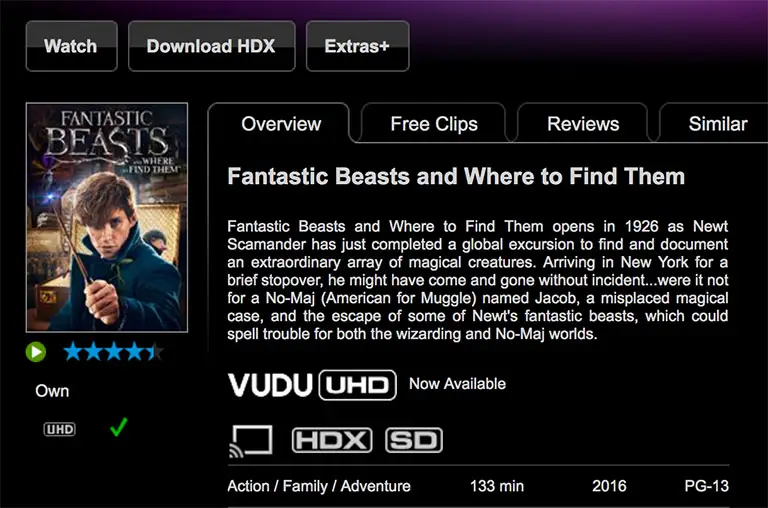 Fantastic Beasts and Where to Find Them released to Blu-ray and Ultra HD Blu-ray at the end of March, and those who purchased the combo editions from Warner Bros. also received a code to redeem a digital copy.
Little did we know that those who purchased the Ultra HD Blu-ray edition would eventually have access to the Digital UHD version from Vudu, all 8.3 megapixels of it.
Vudu recently started authenticating UHD copies, after many of us wondered whether Ultra HD Blu-ray discs would validate the higher resolution format. Although there are a limited number of titles available on Vudu in UHD, mainly because most studios are not supporting it yet, it's worth checking whether your UV copy includes the UHD copy as well.
Vudu appears to be the only Ultraviolet partner so far that is streaming titles in 4k UHD. Although some digital redemption codes validate both iTunes and UltraViolet, Apple Movies still only supports up to 1080p. Some codes also authenticate Google Play digital copies, but we have yet to see a UHD title get validated.
UHD titles on Vudu aren't globally supported. You need a compatible Vizio or LG TV, or supporting streaming media player such as Roku Ultra or Chromecast Ultra. See a list of devices here.