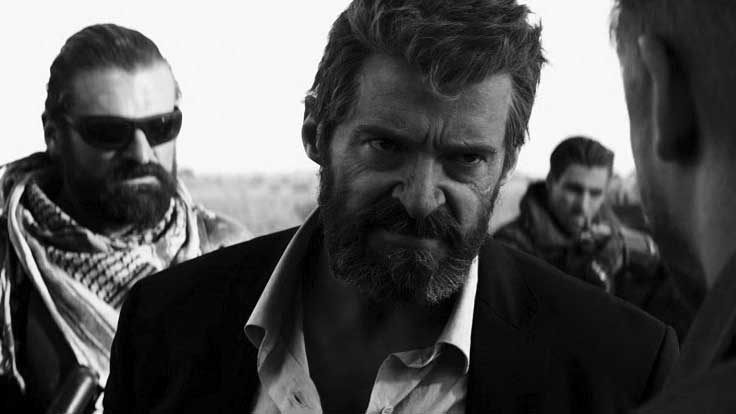 20th Century Fox's Logan plays a bit like an old western, and so converting it to black and white might just bring a whole new context to the film. Director/Writer James Mangold wrote a slightly cryptic tweet today suggesting "Hard core B&W loving LOGAN fans should not make any plans on the evening of May 16th" — so save the date!
I think we can take that as a limited theatrical release of a black and white version of Logan, but whether nationwide, limited or single theater showing we won't know until an official announcement is made. (Update: Check Alamo Drafthouse for local showings. In Los Angeles, The Egyptian Theater will be showing it.)
Mangold said previously he was working on a black and white rendering of the film, and immediately I thought of Mad Max: Fury Road – Black & Chrome Edition, the black and white edition of the film that director George Miller actually called "the best version." It was, in a way, seeing the new film for the first time.
"During production of LOGAN I took many black and white photographs and noticed how striking and dramatic our gritty settings and characters appeared in monochrome," said Mangold. "The western and noir vibes of the film seemed to shine in the format and there was not a trace of modern comic hero movie sheen."
Let's hope Mangold's date and promise holds true. I'd love to see X-23, Caliban, and Wolverine in pure black and white, like inked comic book pages before going to color.
[Updated: Read this press release from Fox.]
To celebrate the release of Logan Noir, Alamo Drafthouse will be bringing the film to the big screen in all of its monochromatic glory for one night only starting at 8 PM EST on Tuesday, May 16th. The event screenings will also be accompanied by an exclusive, live streaming Q&A featuring director James Mangold. Attendees in every location of the screening will be able to participate in the live discussion with Mangold via Twitter using the hashtag #askalamo.  Los Angeles fans will also get the chance to see Logan slash through the big screen as Alamo Drafthouse and Fox co-present LOGAN NOIR with American Cinematheque for a screening at the Egyptian Theatre. Tickets for all screenings are available now at drafthouse.com/logannoir.