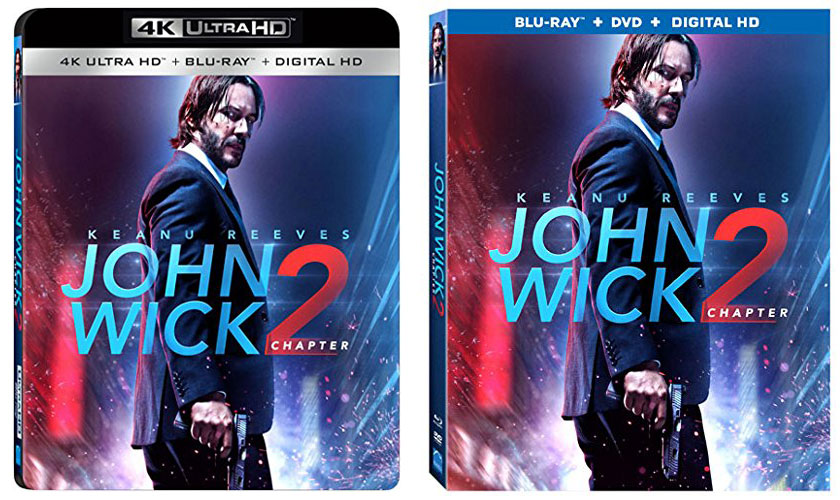 While John Wick: Chapter 2 is still in select theaters nationwide, Lionsgate has already announced the release date for the film on Blu-ray, 4k Blu-ray, and DVD will be June 13, 2017.
The 2-disc Blu-ray edition includes a copy on DVD and Digital HD, and the 2-disc Ultra HD Blu-ray edition includes a copy on standard Blu-ray along with Digital HD. The digital copies can be redeemed with iTunes or UltraViolet.
Bonus features on the Blu-ray editions include deleted scenes, "RetroWick: Exploring the Unexpected Success of John Wick," and nine additional featurettes. (See full list below.)
Pre-orders of John Wick: Chapter 2 are selling for the full list price of Blu-ray ($39.99) and Ultra HD Blu-ray ($42.99). Those prices seem awfully high, but Amazon guarantees a pre-order will be the lowest price before ship date.
'John Wick: Chapter 2' Bonus Features:
Deleted Scenes
"RetroWick: Exploring the Unexpected Success of John Wick"
Featurette; 'Training John Wick"
Featurette; "WICK-vizzed"
Featurette; "Friends, Confidantes: The Keanu/Chad Partnership"
Featurette; "As Above, So Below: The Underworld of John Wick"
Featurette; "Car Fu Ridealong"
Featurette; "Beat Down: The Evolution of a Fight Scene"
Featurette; "Wick's Toolbox"
Featurette; "Kill Count"
Featurette; and "Dog Wick" Short
Audio Commentary with Keanu Reeves and director Chad Stahelski