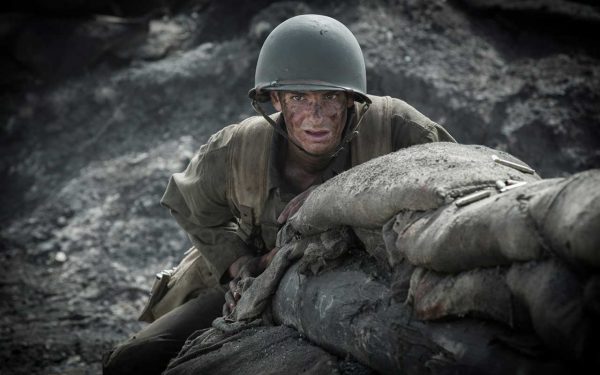 Mel Gibson's Oscar-nominated film Hacksaw Ridge was released to digital format this week (on February 7th), and like other blockbusters we like to give you the lowdown on where to purchase it.
Keep in mind, Hacksaw Ridge will be also available on Blu-ray Disc, 4k Blu-ray, and DVD on February 21st. The combo disc editions offer multiple formats of the film, as well as bonus material and Digital HD copies. (Get more details about the Blu-ray Disc editions.)
But if you're looking to get Hacksaw Ridge right away in digital, Amazon Video, Apple iTunes, Google Play, Vudu and other online services are selling the movie for $14.99.
The purchase with Apple (HD only), Microsoft and Vudu comes with the featurettes "Veterans Day Greeting with Mel Gibson" and "The Soul of War: Making Hacksaw Ridge," as well as several deleted scenes.
Total run time of Hacksaw Ridge is two hours and nineteen minutes. The Digital HD copy of the film is formatted in 1080p with an English Dolby Digital Plus 5.1 soundtrack.
Hacksaw Ridge Digital UHD/HD/SD Price Comparison*
Amazon Instant Video – $14.99 (HD) $14.99 (SD)
Apple iTunes –$14.99 (HD) $14.99 (SD) + iTunes Extras
CinemaNow  –$15.99 (HD) $14.99 (SD)
FandangoNow (prev. M-Go) –$14.99 (HD) $13.99 (SD)
Google Play –$14.99 (HD) NA (SD)
Sony Entertainment Network – $14.99 (HD) $14.99 (SD)
Verizon FiOS On Demand – $15.99 (HD) $15.99 (SD)
Vudu (Walmart) – $14.99 (HD) $14.99 (SD) + Bonus
Microsoft Video – $14.99 (HD) $14.99 (SD) + Extras
*Prices at time of article publication.