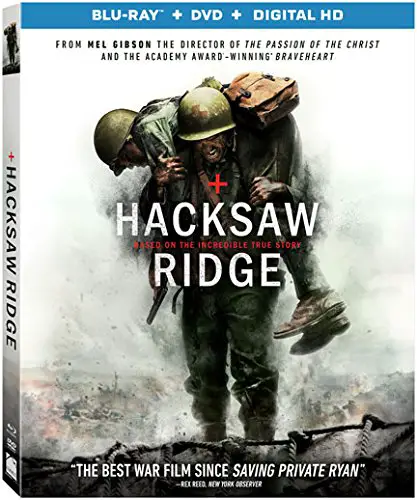 Mel Gibson's Hacksaw Ridge has been announced for disc release on Blu-ray, 4k Ultra HD Blu-ray, and DVD. The film, starring Andrew Garfield as Medal of Honor soldier Desmond Doss, will be released to stores on February 21, 2017.
Both Blu-ray releases will include the special features "The Soul of War," "Veterans Day Greeting with Mel Gibson," and deleted scenes, as well as a Digital HD copy redeemable with iTunes or UltraViolet.
The Blu-ray is formatted in 1080p resolution at 16×9 Widescreen (2.40:1) aspect ratio, while the Ultra HD is 2160p at the same ratio. It doesn't appear the 4k release includes High Dynamic Range (HDR) video as far as the information Lionsgate provided.
Hacksaw Ridge is scheduled to release to Digital HD on Feb. 7, 2017.
'Hacksaw Ridge' Special Features:
The Soul of War: Making Hacksaw Ridge Documentary
Veterans Day Greeting with Mel Gibson
Deleted Scenes
4K Blu-ray Technical Specs:
Audio:

English Dolby Atmos
Spanish 5.1 Dolby Digital Audio
English 2.0 Dolby Digital Audio Optimized for Late-Night Listening

Subtitles
Blu-ray Technical Specs:
Audio:

English Dolby Atmos
Spanish 5.1 Dolby Digital Audio
English 2.0 Dolby Digital Audio Optimized for Late-Night Listening
English Descriptive Audio

Subtitles