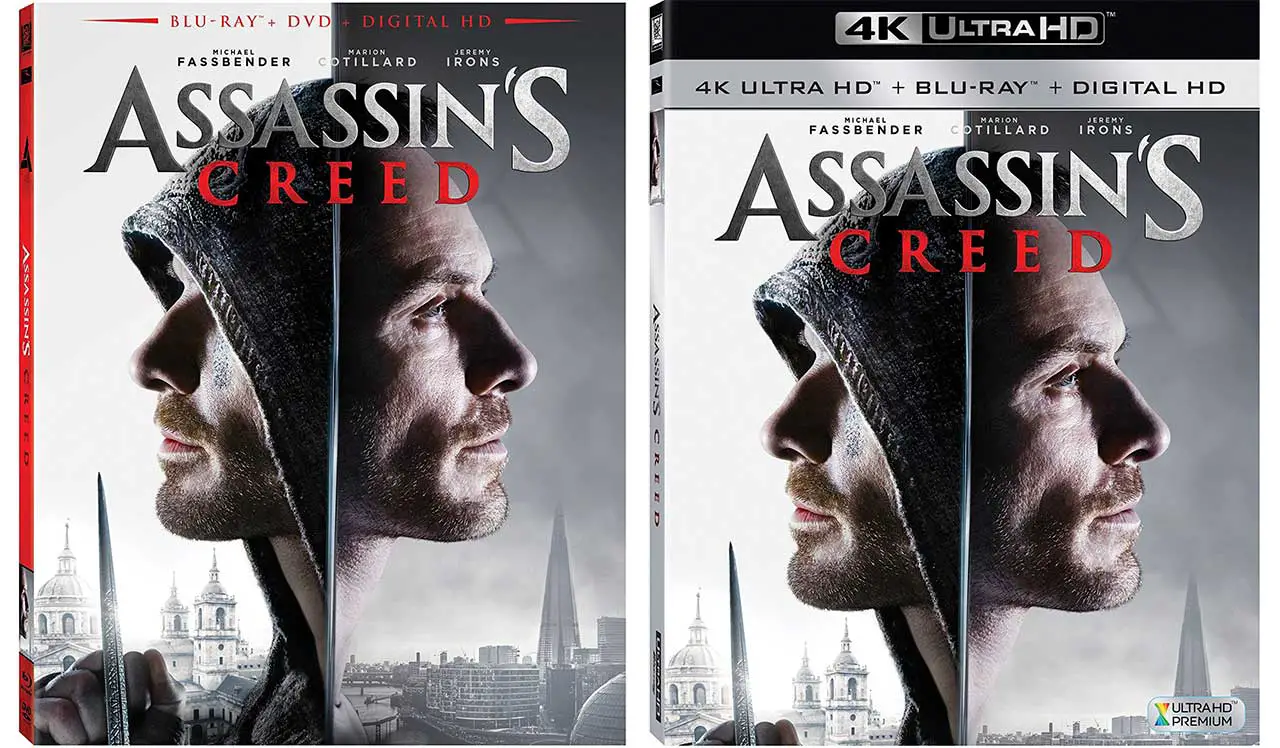 20th Century Fox's film adaptation of the mega-franchise video game Assassin's Creed will get released to Blu-ray, 3D Blu-ray, and 4k Ultra HD Blu-ray on March 21, 2017. The movie will likely be released earlier on Digital HD, at least two weeks before the discs and on-demand rental options.
On Blu-ray and 3D Blu-ray, Assassin's Creed is formatted in the standard 1080p, while the 4k Ultra HD Blu-ray edition will feature four-times the resolution at 2160p. As with other Fox releases the UHD BD title includes HDR specifications (noted by the Ultra HD Premium logo). Audio on the Blu-ray and 4k Blu-ray discs is formatted in high quality Dolby Atmos backed by a Dolby TrueHD 7.1 track.
The Blu-ray editions are currently available to pre-order. The standard Blu-ray is selling for $19.99, the 3D Blu-ray for $37.99, and the Ultra HD Blu-ray edition for $39.99. We fully expect the prices of the 3D and 4k versions to drop before release date. Each combo edition also includes a Digital HD copy.
Assassin's Creed was directed by Justin Kurzel and stars Michael Fassbender as the protagonist Cal Lynch (aka Aguilar). Marion Cotillard, Brendan Gleeson, and Jeremy Irons also star in the film.
Assassin's Creed Special Features:
Take the Pledge: Behind the Scenes of Assassin's Creed – Join the Brotherhood as you go behind the scenes of Assassin's Creed in a five-part documentary:

Legacy of Assassin's Creed – Justin Kurzel, Michael Fassbender and Marion Cotillard discuss the legacy of the iconic video game franchise and the original story created for the film
Becoming an Assassin – Michael Fassbender and the rest of the cast explore the training required to become master assassins
Tools of the Trade – The filmmakers discuss the inspiration behind the design of the costumes, hoods and weapons, as well as the signature hidden blades
In the Realm of Realism – The Assassin's Creed cast and crew discuss the recreation of 15th century Spain, as well as modern-day Abstergo
Swift Moves and Stealth Maneuvers – An inside look at the incredible team behind the film's action sequences, defying gravity with parkour and "leap of faith" stunts

Deleted Scenes Conversation with Justin Kurzel & Christopher Tellefsen – Director Justin Kurzel and Editor Christopher Tellefsen look back on the scenes that didn't quite make the cut
Deleted Scenes Conversation with Justin Kurzel – Join Director Justin Kurzel and his key collaborators on Assassin's Creed as they look back on the process of crafting the film
Gallery & More! – Photos from the set, concept, costumes and weapons art
[Note: Updated with official package art.]