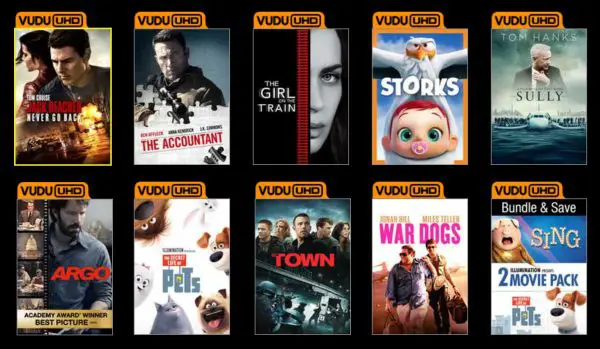 Vudu is one of the few places you can purchase or rent 4k UHD titles, and although the list of compatible devices has been somewhat limited, support has been extended to include the newest streamers from Roku including Premiere, Premiere +, and Ultra, as well as Chromecast Ultra that should be getting a firmware update to support Dolby Vision sometime soon. (Here's a list of compatible devices.)
Since our last update two new Ben Affleck movies have been added to Vudu's UHD library including the 3-time Oscar winner Argo (2012) and Oscar-nominated The Town (2010). Both titles feature 4k resolution with HDR (High Dynamic Range) enhancements via Dolby Vision specifications, and sell for $29.99 each.
Jack Reacher: Never Go Back (2016) was just released to 4k Ultra HD Blu-ray Disc, but is also available in Digital UHD from Vudu. The title features Dolby Vision encoding to provide High Dynamic Range color enhancements, as well as an immersive Dolby Atmos soundtrack. 'Never Go Back' sells for $29.99 in Digital HD.
And, recently-released to home media thriller The Girl on the Train (2016) can be purchased in 4k UHD from Vudu for $29.99. The digital format includes HDR through Dolby Vision specifications.
Here's a full list of Digital UHD titles available on Vudu.
Want to learn more about streaming in 4k? Read How to Stream 4k Ultra HD with High Dynamic Range (HDR)