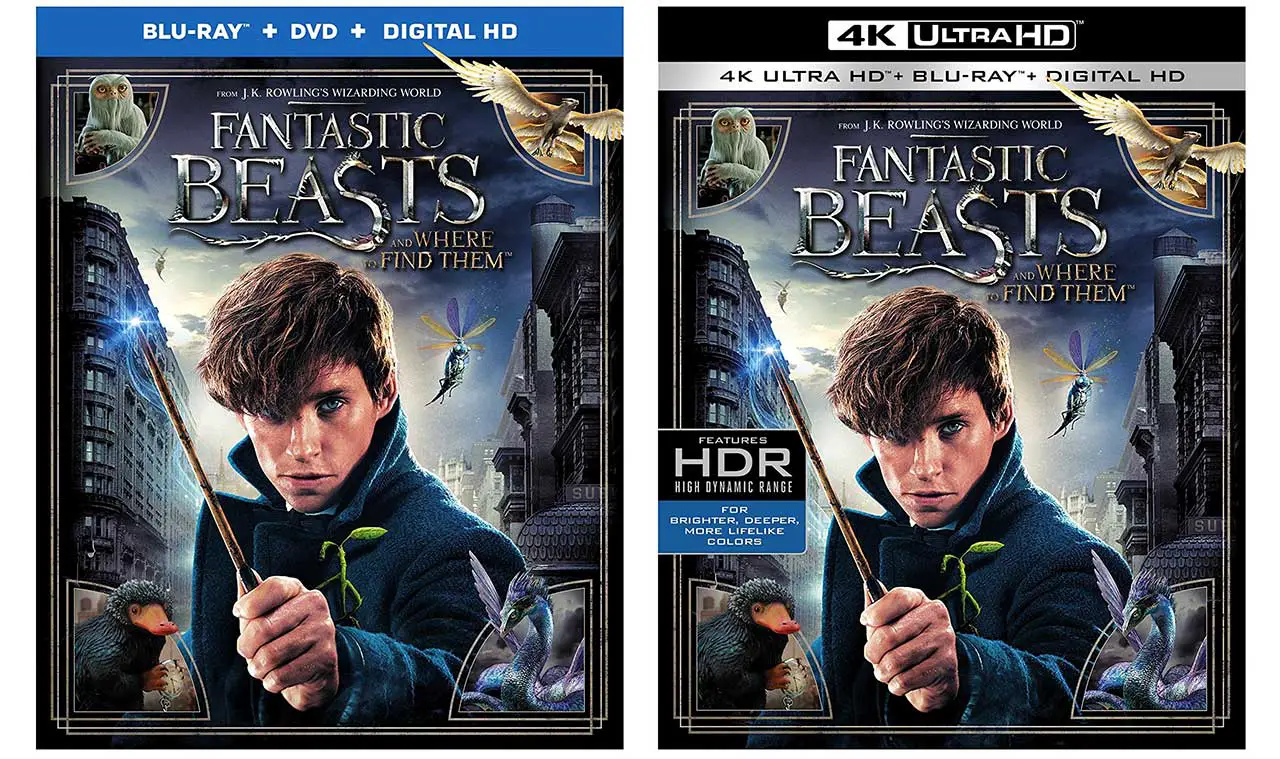 Fantastic Beasts and Where to Find Them has been available to pre-order since late December, and now Warner Bros. Home Entertainment has officially announced the release date for the disc editions will be Tuesday, Mar. 28, 2017.
The film will be available in several formats including Blu-ray, 3D Blu-ray, 4k Ultra HD Blu-ray, and DVD. And, we expect an early digital release possibly two weeks in advance of the disc and on-demand options.
On Blu-ray, Fantastic Beasts and Where to Find Them is presented in 2.4:1 (16:9) widescreen aspect ratio, with 1080p and 2160p video resolution on the standard Blu-ray and 4k Blu-ray discs, respectively. The Ultra HD Blu-ray also features HDR (High Dynamic Range) color enhancements.
For sound, the 2D Blu-ray and Ultra HD editions will feature Dolby Atmos audio backed up by a DTS-HD Master Audio soundtrack as well as English Descriptive Audio 5.1. Looking at the back cover of the 3D Blu-ray edition, it does not indicate Dolby Atmos — only DTS-HD MA.
The Blu-ray editions are loaded with extras including several featurettes, character and creature profiles, making of production videos, and 11 deleted scenes.
The disc editions are priced at $24.99 (Blu-ray), $29.99 (Blu-ray 3D / Ultra HD Blu-ray) and $17.99 (DVD). Buy on Amazon The digital version of the film can be ordered for $14.99 (SD), $19.99 (HD) and $29.99 (UHD from Vudu).


Fantastic Beasts and Where to Find Them Bonus Material:
Before Harry Potter: A New Era of Magic Begins!

Join J.K. Rowling as she, David Yates and David Heyman return to Leavesden Studios to build a new and exciting corner of the wizarding universe.

Characters

The Magizoologist
The Goldstein Sisters
The New Salemers
The No-Maj Baker
The President and the Auror

Creatures

Meet the Fantastic Beasts
Bowtruckle
Demiguise
Erumpent
Niffler
Occamy
Thunderbird
Design
Shaping the World of Fantastic Beasts (360°)
New York City (360°)
MACUSA (360°)
Newt's Magical Case (360°)
The Shaw Banquet
The Blind Pig (360°)
Deleted Scenes (11 scenes)