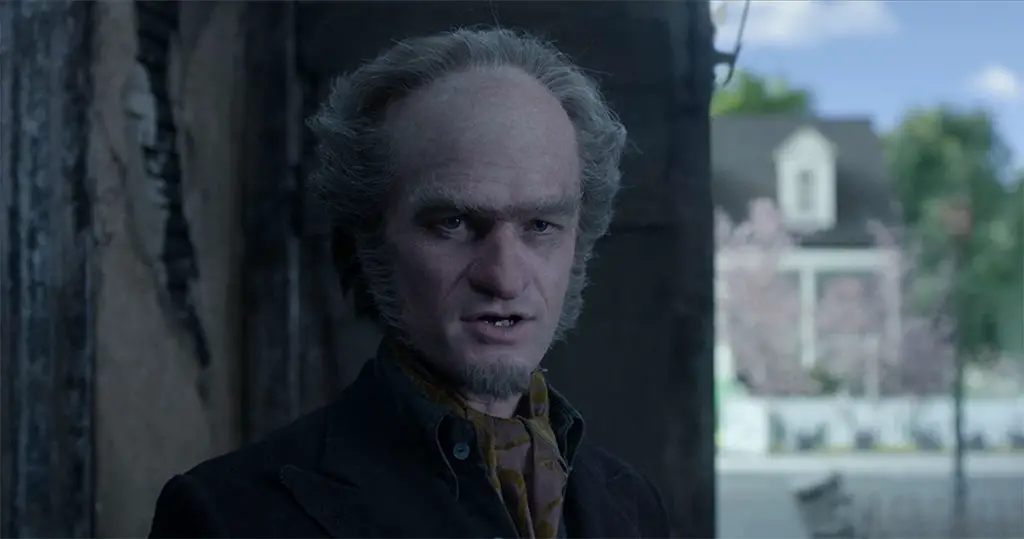 The first season of the Netflix Original Series Lemony Snicket's A Series of Unfortunate Events is now available to stream in its entirety. The season consists of eight, 50-minute episodes starting with "The Bad Beginning: Part 1" and "A Bad Beginning: Part Two."
Lemony Snicket's A Series of Unfortunate Events can be streamed in up to 4k resolution with HDR (High Dynamic Range) — the specification that adds more color depth and detail to video and photographic images. But only certain 4k TVs will support the format (read more about streaming in 4k and HDR with Netflix). [Update: While Netflix announced the series would stream in HDR, it does not label it as such. Update 2: When viewed on a HDR device the description indicates HDR or Dolby Vision.]
The series looks much better on a TV set than a PC. Watching within an internet browser, the video lacks contrast and appears much flatter than other Netflix Originals. On a tablet and phone, there is a bit more contrast but the subtle details of this series are lost on smaller screens. But on a 1080p (Full HD) or 2160p (Ultra HD) TV, the video quality really stands out.
Based on the best-selling book series by author Lemony Snicket (aka Daniel Handler), the series stars Emmy and Tony Award winner Neil Patrick Harris as the villain, Count Olaf, along with Malina Weissman and Louis Hynes as Violet and Klaus Baudelaire, respectively.
Additional cast members include 2-time Oscar-nominated Joan Cusack, K. Todd Freeman, Usman Ally, Matty Cardarople, and John DeSantis. The series was directed by Emmy Award winner Barry Sonnenfeld and Daniel Handler,
Lemony Snicket's A Series of Unfortunate Events premiered on Netflix January 13, 2017.
Paramount/DreamWorks' film adaption of the book titled Lemony Snicket's A Series of Unfortunate Events was released to theaters in 2004. In the film, Jim Carrey starred as the infamous Count Olaf and Jude Law provided voiceover acting for the narrator Lemony Snicket (also the pen name of novelist Daniel Handler).