While the fireplace is one of the least original names ever concocted (is the bathtub the "waterplace?"), we can't deny the crazy-high cozy factor of a homey hearth. And on Christmas Eve and Christmas Day, heck, it just feels so right to be parked in front of one.
But if you grew up without a fireplace in the New York City area, the next best thing was The Yule Log. Airing on Christmas Eve or Christmas morning from 1966 to 1989 on WPIX, the looped video of a burning log with holiday tunes was more than enough to fascinate local lads and lasses who still only had one screen in their lives.
As so often is the case, the trends that start in New York filter out across the country, and The Yule Log is no exception. Tribune Media's WGN America and Antenna TV both show the log now, and similar fireplace videos are available on Netflix, DVD, and more.
If you're looking to find simulated fireplaces on TV this weekend, we've got you covered:
For the Traditionalist – The Yule Log (WPIX and multiple Tribune affiliates nationwide)
This is the 50th anniversary of the WPIX Yule Log, so if you can, you really owe it to yourself to watch the original. This can happen in New York as well as many other cities like Chicago, Seattle, Miami, St. Louis, and Denver. Click here to see all of the times and cities showing the Yule Log.
For the Streamer – Fireplace and Melodies for the Holidays (Netflix)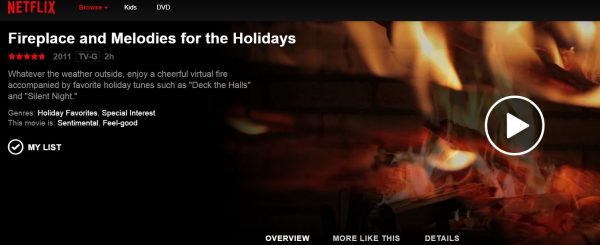 Don't live in a city with a Tribune station? Fret not. Netflix has Fireplace and Melodies for the Holidays, which sounds like it was named by the fireplace inventor. It runs two hours and is rated almost a full 5 stars.
For the Horror Buff – Chucky Roasting on an Open Fireplace (YouTube)
OK, this might be the funniest thing we've seen this year: A 7-hour loop of Chucky from Child's Play burning to the soothing sounds of a crackling firewood. Kudos to you, ShotgunZen, for creating this gem.
For Political Junkies – The Daily Show's Donald Trump's Christmas (NOT HOLIDAY) Yule Log (YouTube)
Even if you voted for him, we're not sure who'd want The Donald as their background to Christmas festivities, but The Daily Show has a Trump-inspired fireplace with the U.S. Constitution burning in it and the occasional Trump sound bite mixed in. For Republicans, well, maybe just turn the sound down and pretend it's aimed at Obama.
For the Star Wars Fanatic – Darth Vader Yule Log (YouTube)
I think it's safe to say, most of us are missing Darth Vader these days. But in 1983, seeing his body burn at the end of Return of the Jedi was cathartic. So, how does a five-hour catharsis sound?
For Scotch Drinkers – Nick Offerman's 'Yule Log' (YouTube)
Nick Offerman's (Parks and Recreation) dry wit and well-bearded face have earned him many fans, but only true devotees will risk ridicule and fire up this 45-minute clip of Offerman slowly enjoying scotch in a comfy chair by a fireplace.
For the Hearth-Loving Marathoners – Yule Log Christmas Fireplace 10 Hours (Amazon Prime Video)

This one's kinda dull, but it does run for a whopping 10 hours. It also oddly never zooms in on the fire.
Whether you're in front of a real fireplace or looped video of Chucky for seven hours, Merry Christmas!