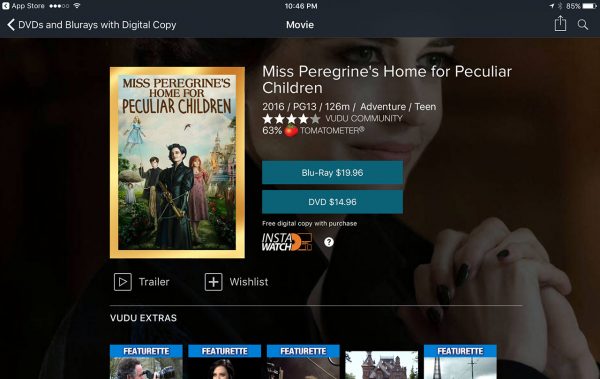 Vudu has updated their iOS app for Apple mobile devices to allow purchasing Blu-ray discs and DVDs bundled with digital copies of movies and TV shows.
In addition to the bundles, select titles include movie merchandise that can be purchased directly through the app.
An example of merchandise might be the limited time offer to get a special edition bracelet with the purchase of Miss Peregrine's Home for Peculiar Children.
How do you know which titles can be bundled? The app now includes a dedicated section where Blu-rays or DVDs can be purchased that include an UltraViolet digital copy via Walmart's InstaWatch service.
The bundled disc and digital packages don't appear to include any 4k Ultra HD Blu-ray editions yet.
Not all titles were available to purchase in disc format when reviewing the app update, and, certain titles such as Fifty Shades of Grey were only available in DVD.
However, Miss Peregrine's Home for Peculiar Children (mentioned above), Kubo and the Two Strings, and Bridget Jones's Baby are all new titles available on Blu-ray with InstaWatch on Vudu.
We found one title, The Magnificent Seven in an "Exclusive" Blu-ray bundle, was actually out of stock.
Customers have to pay shipping costs as well as tax on the items purchased.
Vudu recently added free, ad-supported movies to their service, as well as downloads for rented titles.