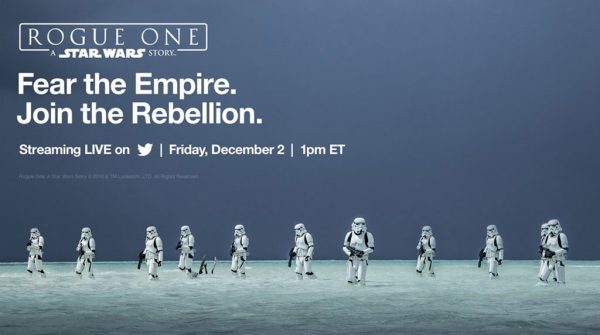 This coming Friday, Dec. 2nd at 10am PT, Twitter will partner with Disney to live-stream a special event to promote the theatrical debut of Rogue One: A Star Wars Story. Hosted by People magazine, the event will present never-before-seen content from 'Rogue One' followed by a Q&A with director Gareth Edwards and cast members from the film.
Actors scheduled to take part in the live discussion include Felicity Jones, Diego Luna, Ben Mendelsohn, Donnie Yen, Mads Mikkelsen, Alan Tudyk and Riz Ahmed. Fans will be able to ask the cast questions on Twitter by tweeting with the hashtag #AskRogueOne.
Those who want to view the event have several options including the dedicated Twitter page at RogueOne.twitter.com, through Twitter "Moments," or on the Star Wars (@StarWars) and People (@people) Twitter pages. A Twitter account or login won't be required to view.
Want to go to the event itself? Not so fast. People hasn't announced where it will take place, only that the live event will stream from a "surprise location."