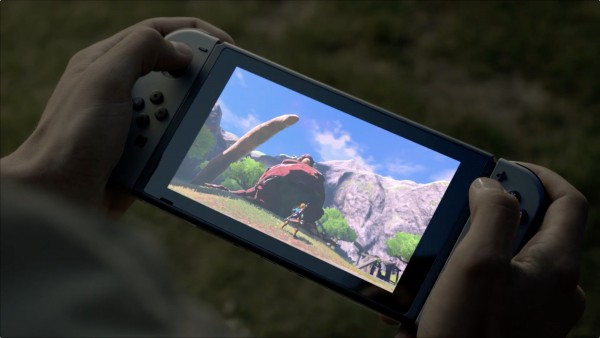 Nintendo may have officially revealed the Switch console but, as we noted before, we still don't know that much about it.
While the full details regarding the Switch should be made available when Nintendo hosts a special Nintendo Switch event on January 12, 2017, a recent series of leaks may have just filled in the most crucial pieces to the Switch's puzzle.
Industry insider Laura Kate Dale has announced on Twitter that Nintendo is currently planning on launching the Nintendo Switch on March 17th in the PAL region (which encompasses most of Europe). It appears that they are planning on releasing the console worldwide that same week, but the Switch will not be released globally on one, unified date.
Speaking of global access, Dale has also learned that the Switch is currently designed to be a region-free system. It was previously speculated that the console would support games from any region, which would be somewhat surprising given that the Wii U was notoriously region locked.
A separate source has also suggested that the Nintendo Switch will launch for $260 for the basic edition, $300 for a bundle that will include the latest Mario game, and $340 for a bundle that included The Legend of Zelda: Breath of the Wild and a Pro Controller.
If that is the final price point, it would mean that Nintendo is preparing to aggressively undercut the PS4 Pro and Project Scorpio. While those latter systems are much more technologically advanced, the sticker shock of their prices may lead some eyes to the Switch.
It is rumored that the Mario game included in the bundle will mostly be a 3D title that features 2D levels in-between the title's main areas. Additionally, Nintendo may be planning on releasing upgraded versions of Mario Kart 8, Super Smash Bros. Wii U, and Splatoon for the Nintendo Switch. These games will include all previously released content for those titles as well as exclusive content available only for the Switch.
Those who own these titles digitally for Wii U will supposedly be able to download them for free on the Switch. It is unknown how this may affect those who own physical copies, but Nintendo may be partnering with retailers for trade-in deals.
Finally, the Nintendo Switch will likely come with an NFC ID card which will allow players to transfer content such as saves and unlockables between devices. This card will be included with the Switch, and players will be able to buy additional cards for $10.