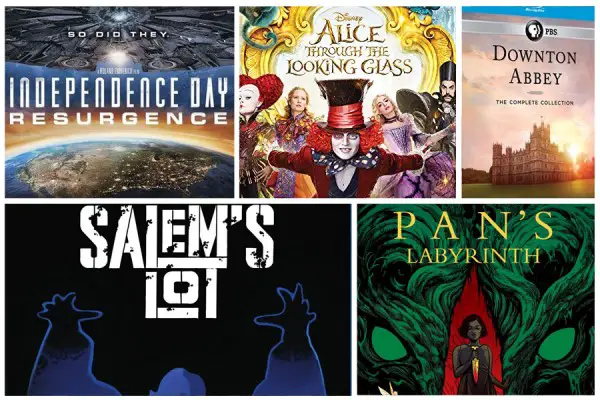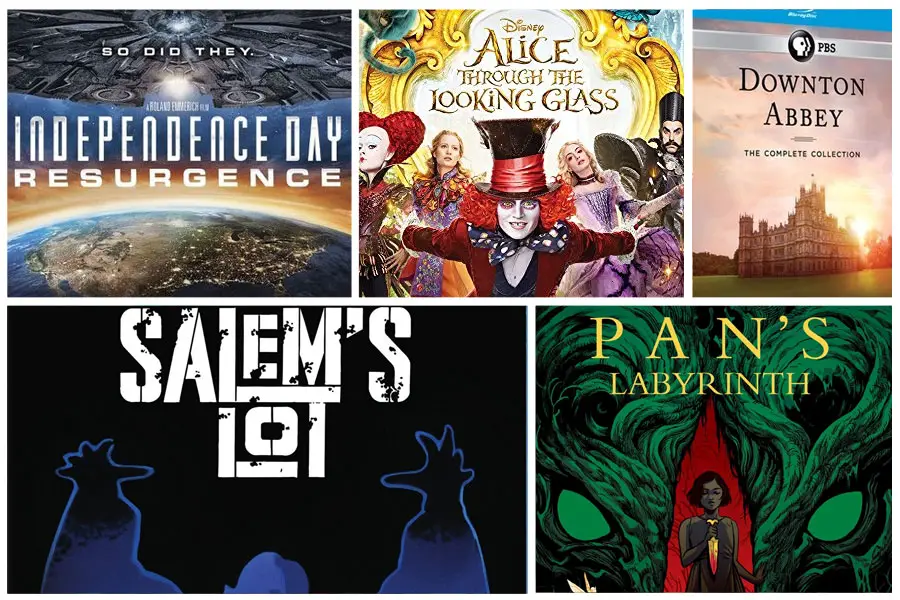 Like every week we break down our top selections for new Blu-ray releases followed by an extended list. Also, don't miss our coverage of new 4k Ultra HD Blu-ray discs every week, as well as news about digital releases.
Disney's Alice Through the Looking Glass is now available on Blu-ray Disc in a 2-disc edition with DVD and Digital HD copy. Directed by James Bobin, the film stars Johnny Depp and Helena Bonham Carter in the follow up to Alice In Wonderland (2010). Price: $22.99 (Blu-ray)
Independence Day Resurgence has been released to several different disc formats today including Blu-ray, Blu-ray 3D, 4k Blu-ray, and DVD. The disc combos from 20th Century Fox also include Digital HD copies with UltraViolet. And, the 4k Ultra HD Blu-ray edition features HDR video. Price: $19.99 (Blu-ray), $24.99 (Blu-ray 3D), $24.99 (4k Blu-ray)
PBS has finally released Downton Abbey: The Complete Collection from Masterpiece. The 21-disc collection includes all 45 episodes of the hit series starring Hugh Bonneville, Laura Carmichael, and Elizabeth McGovern. Price: $89.99 (Blu-ray) List: $149.99
And, several movies written by Stephen King are now available in new Blu-ray editions including Stephen King's It (1990), Salem's Lot (1979), Stephen King's Cat's Eye (1985). Here are our top picks of new Blu-ray releases this week.
TV Series
Downton Abbey: The Complete Collection
The Night Of:
The Vision of Escaflowne: Complete Series & Movie
Bates Motel: Season Four
Stephen King Films
Salem's Lot (1979)
Stephen King's Cat's Eye (1985)
Stephen King's It (1990)
Movies
Independence Day Resurgence (2016) – Blu-ray, Blu-ray 3D, 4k Blu-ray
Alice Through the Looking Glass (2016)
Crouching Tiger, Hidden Dragon (2000) – new on 4k Blu-ray
Pan's Labyrinth (2006) – Criterion Collection
Trilogía de Guillermo del Toro – Criterion Collection
Short Cuts (1993) – Criterion Collection
Child's Play (1988)
Waxworks Compilation
Body Snatchers (1993)
The Pit (1981)
Barbie & Her Sisters in A Puppy Chase (2016)
Our Kind Of Traitor (2016)
Hamburger Hill (1987)
Special Effects (1984)
Classics
The Marx Brothers Silver Screen Collection
Fuzz (1972)
The Laughing Policeman (1973)
Strategic Air Command (1955)
Return of Dracula (1958)
Villa Rides (1968)