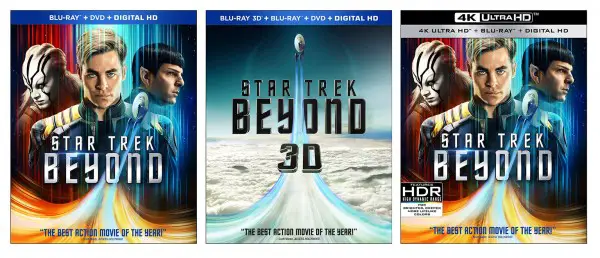 Star Trek Beyond has been available to pre-order since early last month, but up until now we haven't had an official release date. Now, Paramount has announced the film will be be available on disc starting November 1st, with an early Digital HD release expected two to three weeks before.
There will be several Blu-ray editions printed including standard Blu-ray, 3D Blu-ray, and Ultra HD Blu-ray, all of which include a Digital HD copy redeemable with iTunes or UltraViolet. The 2-disc Blu-ray and 3-disc Blu-ray 3D editions also include a DVD copy, and the 2-disc 4k edition has both Blu-ray and Ultra HD copies.
In addition to the standard releases listed above, Best Buy has their own exclusive Steelbook edition selling for $27.99, and Amazon has a multi-format gift set priced at $49.99.
The Blu-ray releases of Star Trek Beyond appear to be packed with extras such as deleted scenes, gag reel, and nine featurettes detailed below.
The Ultra HD Blu-ray release features High Dynamic Range (HDR) video with a deeper color range and more details in light and shadow areas. English audio is provided in 24-bit Dolby TrueHD 7.1 with Dolby Atmos for home theater and audio systems that support the format. French, Portuguese, and Spanish-language soundtracks will play in 5.1 Dolby Digital.
In June, Paramount released J.J. Abrams' other two Star Trek films: Star Trek (2009) and Star Trek Into Darkness (2013) to Ultra HD Blu-ray with HDR. The 4k editions sell for $29.99 each.
Star Trek Beyond Special Features:
Deleted Scenes – Go Beyond the final cut of the movie with scenes you didn't see in theaters.
Beyond the Darkness – Meet visionary producer J.J. Abrams, director Justin Lin and co-writers Simon Pegg and Doug Jung as they discuss the inspiration for the Star Trek Beyond storyline and how it came to life.
Enterprise Takedown – Experience edge-of-your-seat action and see how a shocking attack destroys the USS Enterprise.
Divided and Conquered – Learn how filmmakers pushed the boundaries in Star Trek Beyond by forcing the Enterprise crew into their most challenging situations yet.
A Warped Sense of Revenge – Meet Star Trek's newest villain, Krall, as actor Idris Elba reveals the backstory behind his character's terrifying ambitions.
Trekking in the Desert – Go on set to Dubai and discover how its futuristic architecture became the foundation for the most innovative Starbase yet.
Exploring Strange New Worlds – Tour the incredible production sets of Star Trek Beyond with director Justin Lin.
New Life, New Civilizations – See how special effects designers met the challenge to create an unprecedented 50 new alien species for the film to celebrate Star Trek's 50th Anniversary.
To Live Long and Prosper – Journey through the past 50 years of Star Trek with J.J. Abrams and the cast as they reflect on the evolution of this iconic sci-fi series.
For Leonard and Anton – Watch a touching tribute to the legendary Leonard Nimoy and beloved crew member Anton Yelchin.
Gag Reel – Join in on the fun with this hilarious gag reel of on-set bloopers.