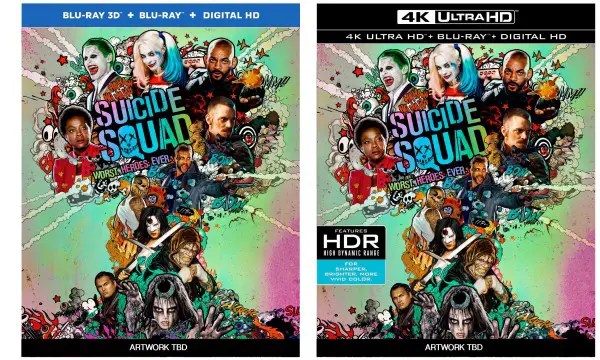 Suicide Squad was one of the hottest film releases this summer, and even given the bad reviews the film raked in over $135M opening weekend at the US box office alone. Now the anti-hero flick is available to pre-order on Blu-ray, Blu-ray 3D, Ultra HD Blu-ray (4k), and DVD at retailers such as Amazon and Best Buy.
Pre-order prices for Suicide Squad on Blu-ray are a little higher than the standard. The two-disc Blu-ray edition is selling for $27.99, a couple bucks more than most new releases that typically go for $19.99 to $24.99. But the other formats should follow more traditional pricing.
The two-disc Blu-ray 3D version is selling for $29.99 at Best Buy (Amazon has it priced for $44.95 but expect that to go down). The two-disc Ultra HD Blu-ray edition is also selling for $29.99 (expect that price to hold fast — it's what 4k BD is going for). And, the DVD is priced at $19.99 at Best Buy (although again, Amazon has it much higher at $28.98 as of this article posting).
The package art shown above, of course, is just an artist's rendition of what the home media release will look like. It will be interesting to see if Warner Home Video goes with the comic book style used for the movie posters or with a more cinematic and dramatic style reminiscent of the film.
We're also figuring the 4k Ultra HD Blu-ray release will include the HDR color spec as did Warner's releases of Batman v Superman: Dawn of Justice and Watchmen: The Ultimate Cut on UHD BD.
No release date has been announced yet but we'll update you as soon as we hear anything. [Update: Suicide Squad will release to Blu-ray and Ultra HD Blu-ray on December 13, 2016.