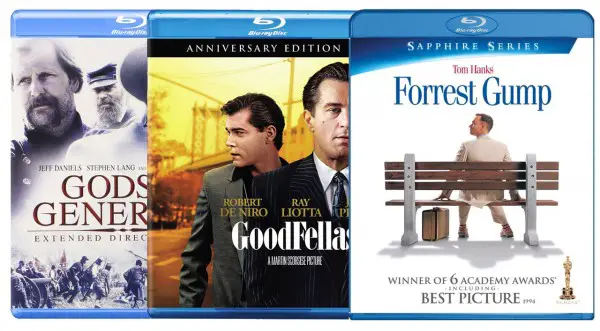 Amazon must have an overstock of some Blu-ray discs as the online retailer is offering three titles for the price of $19.99. That comes out to an average of $6.66 per disc — surely as inexpensive as we've ever seen Blu-rays.
There are about 140 select titles to choose from including hit such as Flight (2013), Interstellar (2015), Ferris Bueller's Day Off (2009), Forrest Gump (2009), and Up in the Air (2010), The Firm (2012).
Other titles to consider include The Untouchables (2008), Cloud Atlas (2012), Gods and Generals: Extended Director's Cut (2011), The Neverending Story – 30th Anniversary Edition (2014), and Goodfellas 25th Anniversary (2015). (Note: years denote time of disc edition not theatrical release.)
The discount is applied after the titles are added to the cart and at checkout. When browsing through the titles you'll find many already sold out, and, quite a few require extra days before shipping.
Here's a link to Amazon's 3 for $19.99 Blu-ray Deal.